California wild fire the deadliest and most damaging in history
Recently the state of California experienced weeks of devastating wildfires, which began on November 8 and burned for 17 days. The Camp Fire, named after Camp Creek Road, where it began, destroyed homes and property and racked up 253 million dollars in home damage and 25 million in car damage. With at least 88 dead and 11 still missing or unaccounted for, this fire has been the deadliest in California history.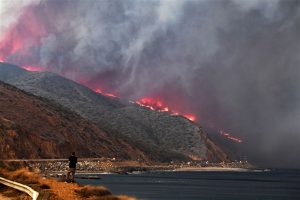 Just under 14,000 homes were destroyed.  "More than 50,000 people in Paradise and the neighboring towns of Magalia and Concow were forced to flee," according to the New York Post.  The fires seared through 153,000 acres of land–that's 386 square miles or more than 10 times the size of Manhattan.   It is estimated that 129 million trees were lost.
In addition to the 88 deaths, there were 12 civilian injuries and 5 injuries of firefighters.
The question most people have is what could possibly cause all of this horrible destruction.  The biggest factor that makes the California forests so susceptible to fires is the dryness of the leaves, trees, grass, and ground coverings–all of which result from the area's dry climate. Due to the flammability of these materials, even the tiniest spark from a fallen power line, a discarded cigarette, or even a dragging tailpipe or piece of random machinery, can result in an enormous fire.
The fires are often spread more quickly by strong winds, which are common in California from October to March.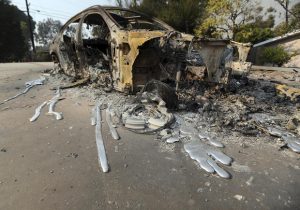 Wildfires like these peak at a high of 113 degrees Fahrenheit.  At this temperature, the aluminum on nearby cars was melted. The destruction can spread rapidly, at a speed of about 30 football fields a minute.  Containing these fires is not only difficult and dangerous but also costly. The cost to fight the Camp Fire alone git $82 million, according to USA Today.
A civil court case on December 6 claimed that the cause of this fire was "faulty steel rings" on top of an electric transmission tower owned by Pacific Gas and Electric Company.  This allegedly allowed a live wire to come loose, according to NBC News. 
Wildfires are unfortunately not uncommon in California. They get an estimated 1,000 fires per year. They have spent more than $8 billion dollars on repairs, and 26,000 deaths have resulted.
According to the California Department of Forestry and Fire Protection, the 2018 wildfire season has been the most destructive season on record. This year alone, there have been 8,434 fires.  These resulted in a burned area of 1,890,438 acres–the largest amount of burned acreage recorded in a fire season.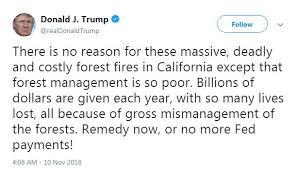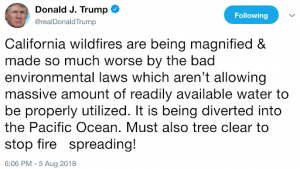 The wildfires prompted President Donald Trump to Tweet.  One comment was to "get smart!" and he stated, "Remedy now, or no more Fed payments!" Trump also talked about how billions of dollars are spent on preventing wildfires and lives are still lost. Trump also blamed the fires on poorly managed forests.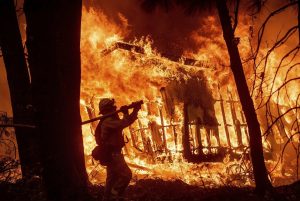 Though the Camp Fire was contained on November 25, the damage is not over.  Due to the tree loss, recent heavy rains are causing severe mudslides.  The insurance company Merced, which owed $64 million in payouts to policyholders in the town of Paradise, was liquidated, according to CNN.  With more than 18,000 structures destroyed and an estimated $10 billion in total losses, this section of Northern California will be dealing with the repercussions of the Camp Fire for a long time.