Battle of the YouTubers : Two stars face off in boxing match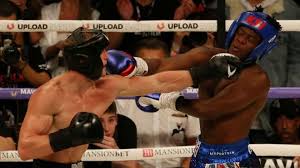 Hang on for a minute...we're trying to find some more stories you might like.
What is being called the biggest event in YouTube history happened on August 25, 2018. It was the KSI vs. Logan Paul boxing match. KSI and Logan Paul are both YouTube vloggers who have long-standing grudges against each other and have made diss tracks about each other. More than 37,000,000 people follow them, making them two of the most popular vloggers internationally. 
The fight was at the Manchester Arena in Manchester, United Kingdom. It was watched live by over 2.25 million viewers with 1.05 million watching pay-per-view and 1.2 million watching illegal streams. As of September, the event had received about 17 million online views on the official YouTube channel in addition to over 5 million viewers who watched illegal streams on Twitch.
The whole event started after KSI  knocked out another YouTuber named Joe Weller in a boxing match in the 3rd round of their match. When KSI won the fight he got the YouTube boxing championship belt. After that match, KSI decided to call out Logan Paul's younger brother Jake. Jake was supposed to fight KSI but he backed out and Logan took his place. KSI's younger brother Deji decided to fight Jake. Deji did not want to be fighting on the under-card of the fight, so everyone agreed to call it a co-main event.
Before the fight there was a weigh in. KSI weighed in at 187 lb and Logan Paul came in at 189 lb. KSI came to the in the weigh in wearing a mask of Logan Paul's girlfriend, Chloe Bennet, to try to get into his head.
In the fight with Jake Paul, he beat Deji by technical knockout.
Then in front of 18,000 fans, KSI and Logan Paul went 6 rounds that were 3 minutes each. No one thought that KSI would win or come close to winning.The results of the fight ended up being a tie. There were three judges and two of the judges scored it 57/57 and the other scored it 58/57 in favor of KSI. Because it was a draw, KSI got to keep his YouTube championship belt.
Both Logan Paul and  KSI want another fight. They are supposed to fight sometime in 2019. KSI has requested for the second fight to be postponed until May 2019. He said that if the fight is in America he would want it to be in New York City. KSI said, "I wouldn't want it to be in Vegas or LA. because I doubt many of my audience will want to stay up that late to watch it. New York would make more sense."
Next time fans of KSI and Logan Paul will be hoping for a real winner.