Sixth graders experience Cleveland's cultural markets on annual field trip
On September 28 and October 5, sixth graders from the All-Star and Dream Teams went on a field trip to several different markets in Cleveland to learn about different cultures.
Mrs. Powall organized field trip.  Four buses took students to the different markets: Gust Gallucci's Italian Foods, Tink Holl, Aladdin's (All-Star Team only), and of course the West Side Market, which has foods representing various cultures such as Irish, German, Italian, Greek, Polish and Russian.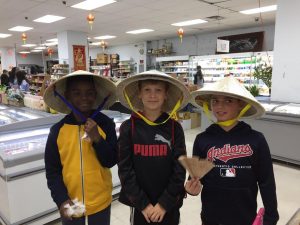 The point of the trip was to expose kids to different cultures. Guidance counselor John Paydo stated the trip's main goal is to give kids "exposure to different types of ethnic markets and backgrounds" and to "highlight the diversity of Cleveland."
One of the markets visited was Gust Gallucci's. This Italian food shop, located 610 Euclid Ave, Cleveland, opened in 1971, but Gust Galluci, an immigrant from Italy founded the business in 1912, selling goods from a wooden cart before getting his first shop. According to their website, "When he came to Cleveland in the early 1900's he discovered a large Italian population who longed for products from their homeland. Gust decided he would discover a way to supply his fellow Italians with their favorite foods."  Galluci's offers Italian specialty items like deli meats, gourmet cheeses, oils, and pizza supplies.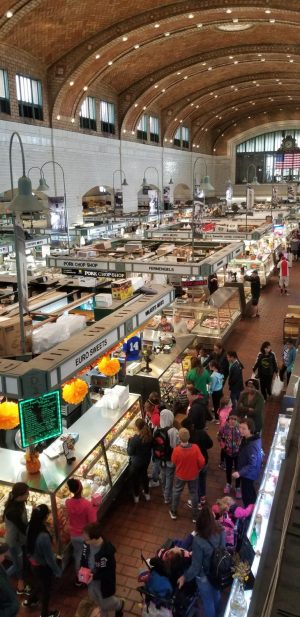 The other main attraction was the West Side Market. Located on the corner of  West 25th and Lorain, the market has a lot of history.  It opened on November 12, 1912. According to westsidemarket.org it  was "designed by renowned local architects W. Dominick Benes and Benjamin Hubbell. The grand 241'X124' structure has 44 foot high Guastavino tile, vaulted ceiling, and a clock tower, which stands 137' tall."  The total cost to build the west side market was $734,890.72. It has been featured on the Travel Channel and Food Network. The Food Network Magazine also named it America's "Best Food Lovers' Market."  It has baked goods, produce, meat, dairy and prepared foods from lots of different cultures.
A few students who attended were asked about what they got out of the trip. They all stated that they "learned about different cultures and foods and what they eat."  
Student Owen Blanco said about the West Side Market that he "liked how big it was and that there was a lot of different foods to eat from different cultures."  He also said his favorite food there was the Pad Thai, which is a noodle dish. He said he would like to return one day with his family. "I could take them to the macaroon stand there," he said. Owen really liked it and said he would recommend it to anyone who likes good food from lots of different cultures.
The West Side Market is open on Mondays and Wednesdays from 7:00 am to 4 pm,  Fridays from 7:00 am to 6:00 pm, and Sundays from 12pm to 6pm. Everyone should go to the West Side Market for the good food and the history of Cleveland.