Top 10 receivers of all time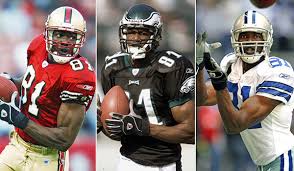 Receivers are a crucial part of every football team and can win teams games. However, many people dispute about who the best receivers of all time are. Whether or not a receiver is good does not solely depend on yards and touchdowns. A receiver may have 30,000 receiving yards but never win a Superbowl or vice versa.
A quick search of the internet can bring up heaps of top 10 lists from various sources and experts.  And no two are the same. So here are the top ten wide receivers of all time, according to me.
10. Calvin Johnson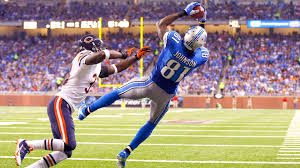 Calvin Johnson is on the list because he was a remarkable receiver ,having 731 receptions for a total of 11,619 yards and 83 touchdowns all while averaging 15.9 yards in a total of 9 seasons. So after all of that why put him so low on the list? While a great receiver, he never won a Superbowl and only made two playoff appearances in 2011 and 2014–his team losing both times. He also does not have the stats that compare to any of the other players on the list, though he did break the single season reception yards record.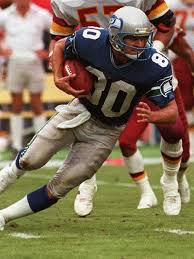 9. Steve Largent
Steve Largent finished his career with 819 receptions for a total 13,089 yards and 100 touchdowns with an average of 16 yards. When Steve Largent retired he held all major receiving records. He is another receiver who couldn't seem to win a playoff game, having four playoff appearances in 1983, 1984, 1988, and 1989. He is, however, a hall of famer with great stats.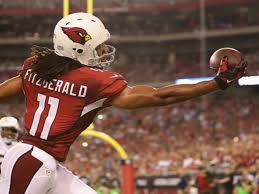 8. Larry Fitzgerald
Larry Fitzgerald currently has 1,251 receptions, 15,721 yards, and 110 touchdowns. He is yet another receiver who can't win a major game; he did however make it to the Super Bowl but lost to the Steelers 27-23. Fitz also went to the playoffs in 2008, 2009, 2014, and 2015. Fitzgerald still plays in the league and as of October 2018 already had 17 receptions for 176 yards.
7. Michael Irvin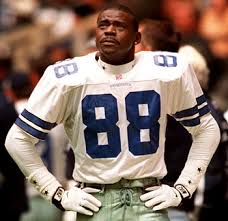 Michael Irvin played for 12 seasons and finished with 750 receptions for 11,904 yards. He topped it off with 65 touchdowns for 15.9 yards average. Irvin does break the curse of losing games, having won three Super Bowls in 1993, 1994, and 1996. However his mediocre stats hold him back from a higher rating.
6. Marvin Harrison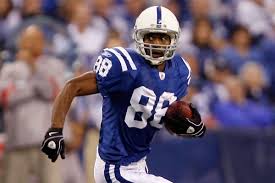 Marvin Harrison had a great career 1,102 receptions while gathering 14,580 yards with and average of 13.2 yards per reception.  The cherry on top is his 128 touchdowns. Harrison continues the trend of winning playoff games with a Super Bowl win in 2007 against the Chicago Bears. But it that game, he had only 5 catches for 59 yards. His lack of performing in the clutch and only one Super Bowl ring holds him back.
5. Cris Carter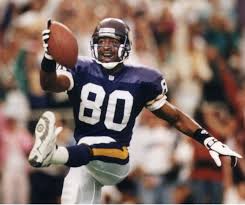 Cris Carter was actually going to be number four until further research proved the number four slot should go to another receiver. Carter had an astounding career, hauling in 1,101 catches for nearly 14,000 yards.  He had a career 130 touchdowns and is a Hall of Famer.
4. Terrell Owens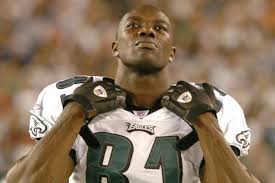 Owens had a stellar career with 1,078 receptions. With a grand total of 15,934 yards, he averaged 14.8 yards per reception and scored a whopping 153 touchdowns. Owens rekindles the flame of losing important games–suffering a crushing defeat to the Patriots with a final score of 24-21. Owens had a decent game despite suffering an injury with 9 catches for 122 yards. Owens back-to-back Super Bowl rings lands him toward the top. 
3. Randy Moss
All football fans know Randy Moss has to appear on a list of top receivers due to his jaw dropping career stats.  With less than 1,000 catches, he gained an amazing 15,292 yards–averaging 15.6 yards per reception.  He holds the NFL single-season touchdown reception record, the NFL single-season touchdown reception record for a rookie, and is second on the NFL all-time regular season touchdown reception list with 156.  He was a 2018 inductee into the Pro Football Hall of Fame. 
2. Art Monk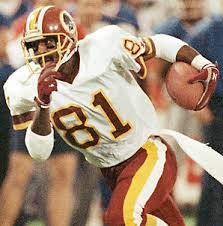 Many people have no clue who this is, but he had a superb career. With only 940 receptions, he still fought for 12,721 yards and 68 touchdowns. He did, however, win three Super Bowls. He was the first player to break 900 receptions and pushed the record to 940 in the same season. His broke the record for most receptions in a season in 1984, and that record stood for eight years until 1992. All of this earned him a Hall of Fame spot in 2008.
1. Jerry Rice
Obviously. Rice is undoubtedly the greatest receiver of all time, holding three all-time NFL receiving records and having won three Super Bowl rings. He had a ridiculous career with 1,549 catches for a remarkable 22,895 yards, averaging 14.8 yards.  He also had a record-breaking 197 touchdowns.  In 2010, he was chosen by NFL Network as the greatest player in NFL history.