Eighth-grade football team finishes the season undefeated
The eighth-grade football team had an undefeated season that ended with a 18-0 win against their rival Chardon.  Chardon had marked the team's only loss as seventh graders. It was a two-point loss in the last game of the year.  This year, Mayfield battled in a cold, wet away game and added Chardon to their list of wins.  Over the course of the 8-0 season, they also defeated Willowick, Willoughby, Kenston, Memorial, Riverside, Eastlake, and Madison.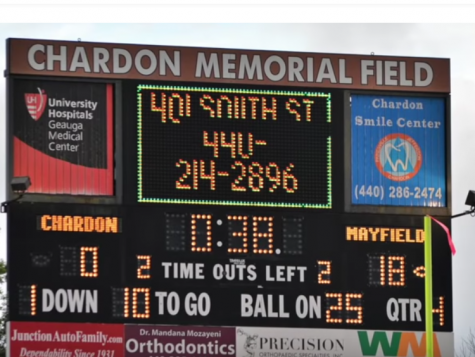 One of the team captains, Nick Januszewski, noted that there was "definitely anxiety" coming into the Chardon game, but according to Lineman of the Year Nick Sperling, the team "came in with a lot of intensity."
Other than the Chardon game, which was on their minds throughout the season and then clinched their undefeated status, the most challenging game, according to players, was in Eastlake, when the team was down by 16 in the first quarter.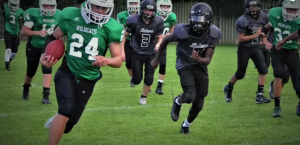 The Mayfield Wildcats gained nearly 3,000 offensive yards over the course of the season, which is nearly three times the amount of their opponents. They also rushed for just under 2,000 yards, while their rivals were held to 581.
Mayfield scored 324 points for the season, seven times more than their contenders, who only scored 48.  
Nick Biega, co-offensive player of the year, led the team in points with 78. Biega also led the team in catches, racking up 25 receptions. Captain Mikey Traczyk scored 62 points, and Joel Kpassou scored 50. Points were also contributed by Anthony Santoro, Anthony Zargari, Ryan Pattison, Aidan Arth, Vince Caspio, and Lex Schneier.
Quarterback and co-offensive player of the year Kayin Cooper threw for 587 yards for the season. He threw for 8 touchdowns and rushed for another 5.  "I'm a competitor. I like to win. I like to play," he said.  "I had a lot a of help,"  he added regarding the offensive line and receivers. 
Mikey Traczyk was the team's leading rusher with 559 yards, Joel Kpassou rushed 502 yards, and Anthony Santoro rushed 298 yards.
In response to the undefeated season, Traczyk said, "It feels good. You work your butt off, and you are so happy. You know that everything you worked for led to the undefeated season."   When asked about his own numbers for the season, Traczyk added, "I don't care about stats to be honest. We did our job. Stats really don't matter." 
"It makes you feel good because only one team can go undefeated, and we know we worked hard," said Sperling.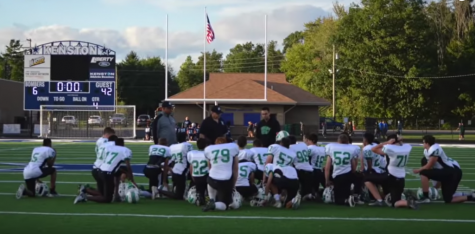 The defense contributed largely to the team's success as well, holding opposing teams in both yardage and points scored.  Three of the eight games this season were shut-outs.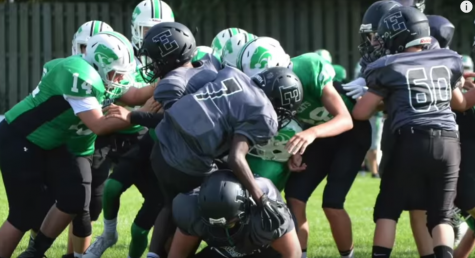 Over the course of the season, Santoro had 43 tackles, Traczyk had 34, and Aiden Arth and Sperling both had 27 tackles. Greyson Rose had 21 tackles and Vince Caspio had 20. Also contributing were Zargari, Anthony Fatica, Mechi Marshall, Mason Arth, Kpassou, Pattison, and Luis Vasquez DeLaRosa.
Traczyk, defensive player of the year, exclaimed, "Every week we were coming in with intensity, trying to pump everyone up."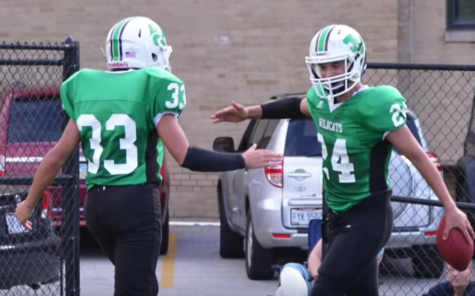 Along with the tackles, deflections and interceptions kept opponents from moving forward. Caspio had three deflections and three interceptions.  Traczyk, A. Arth, Zargari, and Copper all had two deflections.  Pattison and Kyle Gleba had two interceptions each. Also contributing with deflections and interceptions were Rose, Pattison, Collin Ross, and Schneier. 
Coach Brian Stephens emphasized effort and focus for the team. The team practiced everyday after school and watched game film to anticipate how the opposing teams were going to play.  Coach Stephens, along with assistants Jon Capadona and Preston Parker, led the team in practicing skills like footwork and tacking with an emphasis on execution.  "Keep it simple. Keep it fun," said Stephens.  
The Wildcat's starting team practiced against the second team. As Coach Stephens said, "They made starters work harder."  Januszewski concurred that the second team was the Widcats "biggest asset."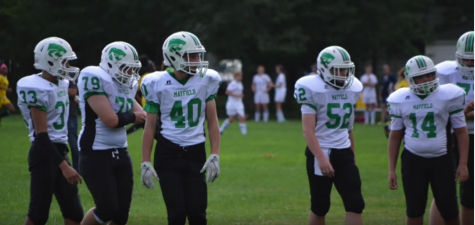 "The thing I love most about football is the brotherhood that naturally comes from hard work,"  said Coach Stephens. Kayin Cooper also spoke to this brotherhood, noting that "trusting my teammates was easy."
"We all needed to work as teammates to succeed," noted Nick Sperling.
Januszewski added that teamwork is what makes football unique.  "It's a machine," he said. "You can't even have one gear not working. Every part, every person has to work." 
For Coach Stephens, "it all comes back to relationships," and his ultimate goal is for his players to "see that working hard is a means to an end."
1 Jones, TJ
3 Cooper, Kayin
5 Spencer, Nasir
6 Schneier, Lex
7 Shiban, Calo
8 Bevack, Joey
10 Santoro, Anthony
11 Caspio, Vince
13 Daher, Ben
14 Sperling, Nick
17 Marshall, Michi
18 Arth, Aiden
19 Kolure, Nikki
20 Vasquez, Luis
21 Antonelli, John
22 Gerome, Patrick
23 Pattison, Ryan
24 Traczyk, Mikey
25 Ross, Collin
27 Kpassou, Joel
28 Zargari, Anthony
29 Gleba, Kyle
33 Arth, Mason
40 Biega, Nick
47 Vogel, Quinn
51 Marsalis, Thomas
52 Brack, Anthony
57 Schmidt, Colin
68 Pride, Jordan
71 Chormanski, Evan
77 Fatica, Anthony
79 Fero, Chris
98 Rose, Greyson
99 Januszewski, Nick