Eminem's new album Kamikaze
Hang on for a minute...we're trying to find some more stories you might like.
Eminem released his new album, Kamikaze, at midnight on August 31. This 13-track album was a surprise release.
Eminem wrote on Twitter that he "tried not 2 overthink this 1" when he tweeted out the link for his new album.
He produced this album with his friend, Dr Dre. This is Eminem's tenth studio album, and it came  out just eight months after his last album, Revival, which did not get very good reviews. The critics and fans alike did not like Revival; but this new album has many people talking. In this album, Eminem disses many other famous people like Lil Pump, The Migos, Drake, and Lil Xan. Also, he does talk about politics and Donald Trump.  He even calls President Trump "this evil serpent" and "Agent Orange." Eminem also called out MGK for saying things about his daughter Hailey.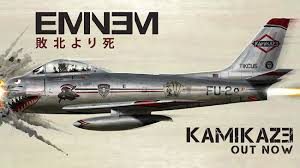 Most of the reviews of Kamikaze are positive. A popular magazine called Esquire thinks that the "beats on this album are the strongest he's had in a decade." And that "his critiques have moments of brilliance." The album has also earned some criticism. "The biggest problem…is Eminem's return to homophobic language," said Esquire magazine. As usual, Eminem turns off some potential fans with some of his lyrics.
Another review in Variety called his new album "speedy" and "gutsy" and said that Eminem "can't be beat." Vox also said that this album is "full of fire and full of Eminem's always impressive skill." It also said that "many hip-hop fans believe he's the GOAT." (GOAT means the greatest of all time.)
Rolling Stone was not as complimentary.  It said, "Kamikaze is the latest and most disappointing entry" and added that Eminem has "no insights or ideas about the state of rap." Also Vox said that this album "is a fitting end to a summer of underwhelming releases by rap's biggest stars."
Despite some negative reviews, Kamikaze  debuted at No.1 and had sold 434,000 units in its first few weeks, according to Billboard magazine. Billboard also said that "Eminem has earned his ninth No 1. album" and that Kamikaze is "one of the best debuts for any album released in 2018."
Many people think Eminem is back, back again, because of this successful album.