Why aren't we recycling?: The reason behind the district-wide disappearance of the blue bins
After speaking to five schools, a principal, a head custodian, and the head of grounds at Mayfield City Schools, it is clear that there is confusion and misconception surrounding the district's recycling program.  
Some people think that recycling has stopped throughout the district. Mayfield Middle School teachers, for example, were informed in August that the blue recycling bins were being removed from classrooms.  Representatives from Center and Gates Mills also reported that recycling had stopped.  Other schools and teachers, however, were completely unaware that any changes had been made to the recycling programs. Students in the high school's Interact Club were still collecting the bins weekly from teachers as of late September, and the office staff at both Millridge and Lander were under the impression that recycling was still being picked up weekly.
So what's the truth?
The company, Republic Services, is no longer taking paper or plastic.  Any paper or plastic being placed in the bins will be mixed in with the regular trash and go to a landfill.  The company is only taking cardboard, which, at the middle school, gets picked up every Thursday at six A.M.
According to Mr. Jim McGinnis, the head custodian at the middle school, Republic Services sent Mayfield a letter stating that the items going into the large bin could no longer be "mixed." Republic Services noted that they would only be taking cardboard and aluminum and that possible fines or charges could be applied for having to haul plastic and paper into a landfill.
Republic Services used to sell their recycling to China, but China's new ban on recycling has made Republic Services change their policies on what they will accept.
According to Mr. Kent Taylor, the head of grounds for the Mayfield City School District, the trade embargo with China that was initiated by President Trump is the cause for all the changes in recycling across America.
To explain, China has stopped accepting all plastic recycling from everywhere in the world.  As stated in a Wall Street Journal article, Richard Coupland, the vice president of Republic Services explained, "At this point in time, we have zero volume going to China. We are still able to move material but our economic model is completely upside down."
As a result, MMS, and other buildings in Mayfield, have "paused" recycling. Mr. Destino, the principal at MMS said, "We're not recycling right now and there's nothing we can do. We just don't have the capability."
This problem is not unique to Mayfield.  According to cleveland.com, "Curbside recycling in Cuyahoga County faces a crisis because people are tossing the wrong items into bins and China is now refusing to buy certain recycled materials." The Cuyahoga County Solid Waste Department noted that due to many items in bins being contaminated, China no longer will accept them; and China's ban makes recycling programs "financially unsustainable."  Up to 25% of what people place in recycling is unusable, so waste companies have begun applying sorting fees of between $38 to $60 a ton.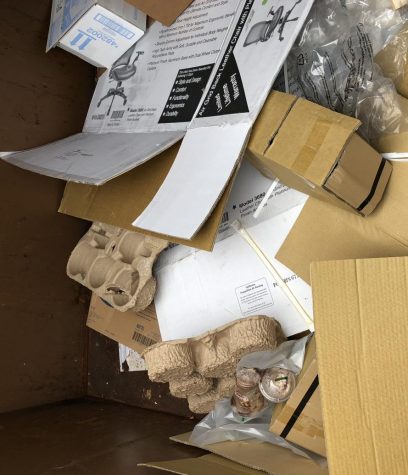 According to Mr. McGinnis, this contamination is a problem at the middle school as well. The large blue bin is open at all times, so anybody can put anything they want into it.  This sometimes includes unapproved items such as paper or plastic or even trash or contaminated items that make the cardboard unrecyclable. As shown in the picture on the left, two people discarded Starbucks into the Republic Services bin. It is this type of disregard for the rules of recycling that caused China's ban and that threaten recycling programs across Cuyahoga County and the country.  
Mayfield is currently looking for a new company, according to Kent Taylor, but with China's ban, there are not a lot of companies that continue to recycle paper and plastic. He also said that as soon as they find a new company, recycling will be continued at Mayfield. As for now, only cardboard and cans are allowed.
At the middle school, the small blue bins that were previously in classrooms are now being stored–waiting to be put to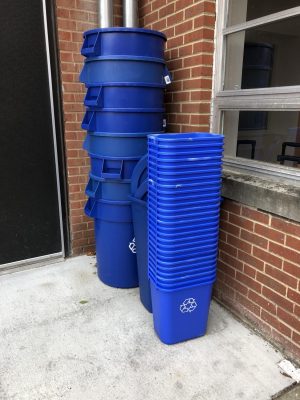 use once again. For now, students and teachers throw all paper into the regular trash.  But some teachers at Mayfield Middle School, unnerved by the quantity of paper being discarded, have started taking home recyclable materials from their classrooms and placing them in their own neighborhood or community bins.
Mr. Destino, the principal at MMS exclaimed, "I love it. I absolutely love it. That is a typical Mayfield teacher, doing what's best for everyone. Kudos to those teachers, doing their best to make the planet better. That's good."