Kavanaugh confirmed to Supreme Court after sexual misconduct allegations
Brett Kavanaugh was conformed by the Senate with a vote of 50-48 on Saturday, October 6.  He has become the 114th Supreme Court Justice.  The confirmation came a week after widely publicized Senate hearings in which he was accused by three women of sexual misconduct.
The week of September 23, Brett Kavanaugh  and Doctor Christine Blasey Ford testified in front of the Senate Judiciary Committee to discuss his ability to be a Supreme Court justice.  They specifically focused on his past and the accusations of three women that accused him of sexual misconduct.
On July 13, 2018, Dr. Ford, age 51, wrote a letter to a senior lawmaker accusing Supreme Court nominee Kavanaugh of sexual misconduct in high school.  The letter said that while he and his friend Mark Judge, who has refused to talk to the FBI about the incident, were intoxicated and took her into a bedroom.  Ford claimed that while there she was held down and Kavanaugh tried to disrobe her while holding a hand over her mouth. 
Kavanaugh went to an all boys' private school called Georgetown Prep, where was friends with Mark Judge. The two were seen by many people at parties where they were intoxicated. For the hearings, Dr. Ford took a polygraph test that said that she was telling the truth; however, polygraph tests do not hold much sway in court.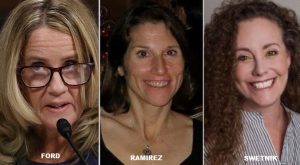 Since the Dr. Ford's accusations, two other accusers came forward: Deborah Ramirez, age 53, and Julie Swetnick, age 55.  Ms. Ramirez described what happened to her in an interview. She stated that she was playing a drinking game with Kavanaugh and friends.  She said that Kavanaugh exposed himself to her and that when she pushed him away he laughed at her.  
Then Ms. Swetnick spoke out against Kavanaugh, claiming to have seen him at parties where girls were given spiked drinks. She also stated that Kavanaugh and Mark Judge were seen waiting in a line for their turn with a girl that had been drugged.  
Judge Kavanaugh asserted that all of these claims are fake.  "I categorically and unequivocally deny the allegation against me by Dr. Ford. I never had any sexual or physical encounter of any kind with Dr. Ford. I am not questioning that Dr. Ford may have been sexually assaulted by some person in some place at some time. But I have never done that to her or to anyone. I am innocent of this charge," his statement reads.
He also asserted that while he did drink while underage he never committed any of the acts of sexual misconduct. He also said that he had never been drunk enough to blackout so as to not remember his actions. During the hearing, when asked about his drinking habits, he said several times that he liked beer. Also when the senators asked him about the incidents he produced a paper calendar from 1982 that said what he was doing at the time during high school. 
Kavenaugh called the accusations a "calculated and orchestrated political hit" meant to derail his confirmation.  He addressed the damage to his reputation and his family.  Senator Lindsey Graham, Republican from South Carolina, defended Kavanaugh and said of the hearings, "This is the most unethical sham since I've been in politics."
There was also support for Dr. Ford through the hashtag BelieveSurvivors.  She was praised by many as heroic in going public with her accusations, which she first detailed in 2012 to her therapist. Protesters were present at both the court and the Capitol.
According to The Washington Post, the Kavenaugh situation has "left the country with even deeper partisan divisions," as Kavanaugh's controversial lifetime appointment to the Supreme Court tilts the decision making power toward Conservatives for years to come.