The comeback of Twenty One Pilots
The musical duet consisting of the two American artists Tyler Joseph and Josh Dun, better known as Twenty One Pilots, has had several bumps along the road of their short history; however, after a hiatus, they have announced the release of their next album. 
The band's journey began in 2009 while Tyler and his friends Chris Salih and Nick Thomas were in still in college in Columbus, Ohio. Though young, Tyler was enthusiastic and ambitious. Even though they had little to no experience with producing music, the band blew up and gained major attention by the media in mid 2010.
The band's career was going very well until former members Nick and Chris left the group in 2011. They both stated that nothing bad had happened to make them leave.
According to a podcast with Chris Salih he stated, "You see, those were Tyler's lyrics, like he wrote the songs, and it feels wrong to just take credit for them. And my parents as well at the time wanted me to get a job. I have full respect for my parents and staying in the band would just be like telling them 'Hey you, pay for my student loans and I'll play you music."
After Nick and Chris had left the group, Josh had contacted Tyler, and Josh joined him in 2011.
They released Regional at Best in 2011, which got them signed to a label. They followed up with Vessel in 2013 and Blurryface in 2015.  They won numerous awards, including a Grammy in 2017.
Eventually, it seems, every band has to go through the trivial ups and downs of having fame, and Twenty One Pilots was struck eventually. On July 6, 2017 Tyler Joseph And Josh Dun posted an eye closing on twitter. "Is this the end?" everyone wondered as the band went silent.
Month after month fans questioned and conspired about what had happened with the band. Eventually, Twenty One Pilots broke their silence–leaking posters and giving small hints towards when their hiatus would end.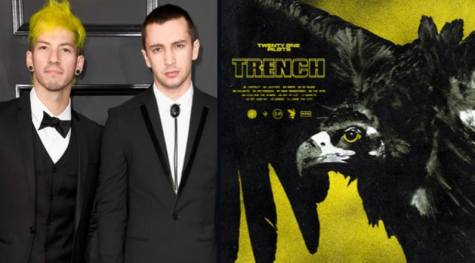 After a year and five days–a time that felt long to their fans–the band finally came back on July 11 by breaking the hiatus and revealing their new album called Trench, which is due to be released October 5th.
In the meantime, they released three songs from Trench and plan to play the rest at their upcoming concerts. The following songs are the ones that have been released: "My Blood," "Levitate," and "Nico and the niners."
Their tour for the album, The Bandito Tour, opens October 16 in Nashville and will continue for five months as they play major US cities as well as internationally in Europe and Australia. Their show at Quicken Loans Arena in Cleveland on October 23 is sold out, as is every other U.S. stop on the tour.