Summer renovations transform cafeteria
The eating spaces at Mayfield Middle School underwent drastic changes this summer, as a construction crew converted the enclosed rectangular areas that were formally known as Cafeteria 1 and Cafeteria 2 into The Hub, Cats' Cave, and The Oasis. The architects of TDA managed to not only make a modern eating space but also create an area that doubles as a learning center.
Renovations started May 25, the morning after students were let out for summer break. Whitehouse Construction, the general contracting company, finished the spaces for use on the first day and are continuing with finishing touches. 
"It was unexpected, and it's really pretty and amazing!" said Natalie Schreiber, a seventh grader on team Innovator.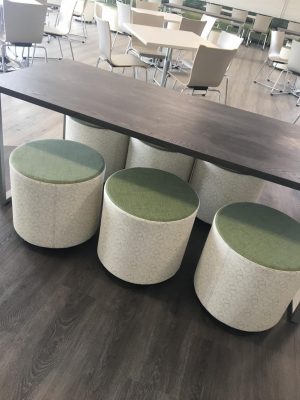 Including the outdoor eating area, the lunchrooms seat approximately 365 people. Students can choose whether to sit on a normal chair, a spinning round stool, or in a booth. 
"We wanted to have all different types of seating for kids because some kids like to move when they sit, some kids like a standard chair, and we thought that the booths are more comfortable. We wanted it to be an area that reflects how the world is," remarked Mr. Destino.  The old cafeterias, he added,  "looked like cafeterias back in the 70's" and the architects wanted something more modernized and open.
While naming the eating and learning areas, Mr. Destino wanted names that would "stick and would mean something." He wanted names that had some relevance to the school atmosphere. "I didn't want to do cafeterias 1, 2 and 3; that seems boring to me."
The Hub was the name given to the largest and central area, which is nearest the main office and connects to the new guidance offices that were also a part of the summer remodel.  The Cat's Cave was given its name for its partially-enclosed feel.  It is a space where students can be bit more separated from the larger spaces.  And the Oasis is a light and bright space with glass enclosures and windows.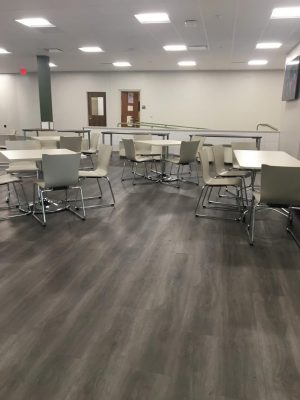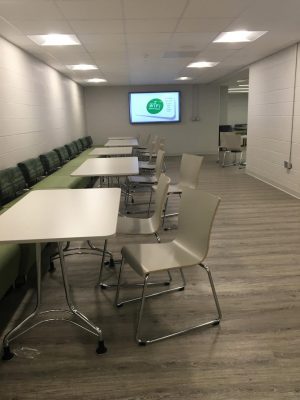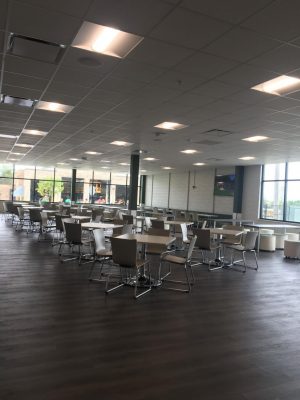 The cafeteria remodel integrated new features such as outlets for charging phones and eight flat screen TVs that be used for not only playing channels but can also run announcements or broadcast as a live feed when connected to a camera.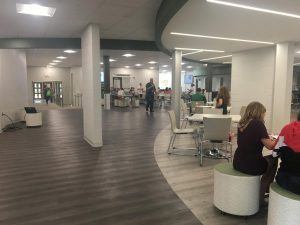 In addition to holding all three grades for lunch, teachers and teams can also reserve the space to use for team meetings, classroom activities, or small groups.  In this sense, the spaces have become another space that can be used for learning and instruction outside of the typical classroom.  The district has been making changes across all grade levels to create more flexible learning spaces such as this one.
Ruby Zedaker, a sixth grader on Dream team stated, "It's really big. My favorite part is The Oasis."
Ben Armstrong, an eighth grader on team Hele said, " I really like that the new cafeteria gives us more freedom."  Whereas the former Cafterias 1 and 2 had students assigned based on team, the new areas offer students flexibility with where they choose to sit each day.
Many other students have also reacted in a positive way. "99.9 percent of kids have respected the spaces and were pleasantly surprised with it," Mr. Destino responded.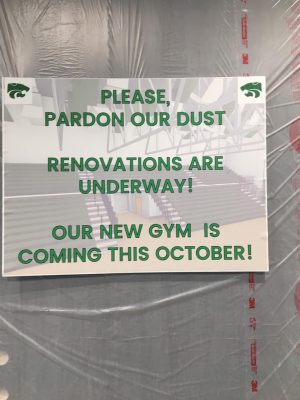 Renovations at the middle school are still underway, with a complete makeover to the gymnasium, which will be called "Our House Arena," predicted to be unveiled sometime in October.