Volcano erupts in Hawaii
Hang on for a minute...we're trying to find some more stories you might like.
On May 3, 2018, several hours after a 5.0-magnitude earthquake, volcano Kilauea erupted in Hawaii–destroying buildings and forcing people to flee their homes.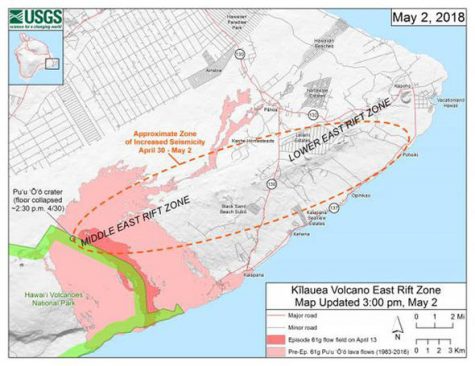 Since then, according to CNN, the summit of Kilauea has erupted periodically with no warning, most recently the morning of May 24.
There have been no reports of death or injuries, however, the poisonous gas emitted by the volcano has caused over 1,700 people to evacuate their homes. Many parks, cars, and campuses have reportedly been damaged as well.
The main dangers of the volcano are the emission of sulfur dioxide and the temperatures around 2000 degrees Fahrenheit. The Civil Defense Agency called sulfur dioxide "a threat to all who become exposed" (www.vox.com). When inhaled, it can cause difficulty breathing. At an atmospheric level, it changes Earth's temperature. The Hawaii Department of Health issued a warning that no protective masks sold in stores can block out the gases.
One resident told CNN, "It tastes metallic. As soon as you get it in your mouth, you want to spit."
A new danger occurred with the May 24 eruptions.  The lava reached the ocean and resulted in a phenomenon called lava haze (or laze), in which the reaction between the lava and salt water results in hydrochloric acid and tiny particles of glass.
As a result of the eruption, many individuals were forced to restart their lives due to the loss of their homes or work spaces. In an interview with CNN, Steve Gebbie–a Hawaiian affected by the eruption–stated, "Now it's trying to figure out what the future brings…My work. My job. Am I going to have to move to somewhere else on the island?…I'd have to start over at the age fifty-six. That's concerning."
According to www.livescience.com, Kilauea has had ongoing, mini eruptions since 1983. It had not caused much destruction until May 3, and scientists are unsure as to what caused it. Kilauea is a shield volcano, so its lava is runny and does not explode, so it is less destructive than other lava types.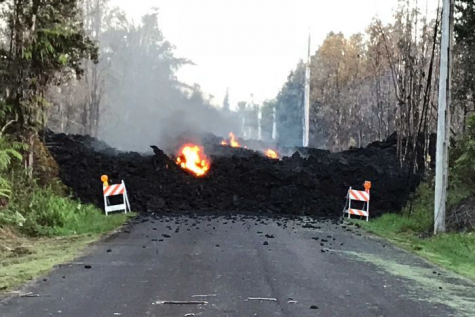 As a result of the eruption, hundreds of smaller earthquakes have broken out. Scientists are looking for warning signs of a similar event in the future.