The invention of the electric skateboard
In the mid-1970s MotoBoard took the world by storm. Its gas-powered motor, sputtering down roads in Berkeley, California, turned heads and raised questions.
Although it was strikingly different than today's motorized skateboards, it was a pioneer in the industry. Today, motorized skateboards are electric, quiet, wireless, and more efficient.
Louie Finkle, the original creator of the electric skateboard, now 61, described how the invention came about. He explained that he went to a hobby shop to buy a motor and left with a wireless controller as well. He also knew a friend who built long-boards; the two ideas combined. This "cool foundation,"  according to Hinkle, is where the idea for a wireless, battery powered, motorized skateboard came from.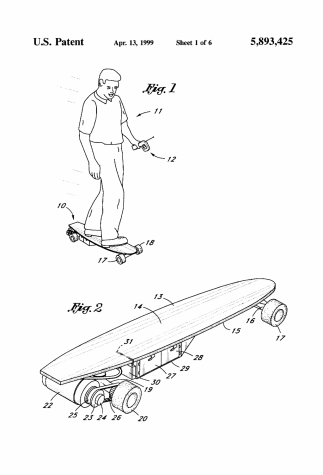 Finkle had no background in electronics but says he was "born to understand the machine."  He used to walk around his neighborhood with a wagon and gather things people would throw away.  He'd take them apart and learn. He always had a fascination with machines that move and a "natural instinct and desire to understand how these machines operate."
This understanding of machines led him to successfully create the board in 1997 and gain a US Patent in 1999.
Finkle's board went from 0 to 22 miles per hour in four seconds and sold for about $995. Also, his board was unique because of the manner in which it was controlled: it effectively turned the user's body into a conductor. A metal strip touched underneath the trigger finger, transferring a low-frequency signal through the feet and about half an inch through the deck of the board to the receiver.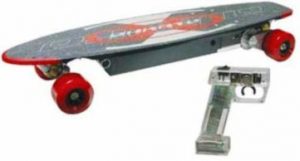 The electric skateboard made advancements in the mid 2000s with developments in battery power and size. When Louie was building Eboards, he used lead-acid batteries; now many DIY builders use LiPo batteries.
Louie's invention quickly became a business. Called eXkate, it produced more than 1500 boards and had a wide range of customers. As it happens, one of his customers was actually John Cusack. Louie explained, "I have a picture with him!"
Louie eventually sold his company, but soon after, Louie said, the quality and reputation was destroyed. He added that selling his company and watching it fail was "like watching a gazelle being eaten by a lion."
Now, electric-powered skateboards, similar to the one Louie built, are often called Eboards. Their prices range tremendously, anywhere from $200 to $1500, while also ranging in quality. Many, if not most, of the parts critical to building an Eboard are manufactured in China.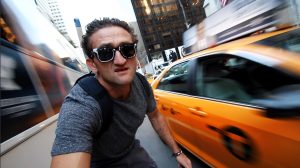 The popularization of Eboards has grown in large part because of influential individuals such as Casey Neistat, Jay Boston, and Ronnie Sarmiento. All three you-tubers have discussed and reviewed Eboards on their channel in the past, reaching a very wide audience on the platform.
 As a result of the popularization of Eboards, many individuals have begun to build DIY boards. As a result, companies that manufacture and sell Eboard parts have begun to spring up. These DIY builds can be anywhere from $400 to $1000 dollars. Many DIY builders choose to build their own boards for increased understanding of the Eboard"s and freedom to choose parts and also because DIY boards tend to be cheaper.
As for the future of skateboards, "Maybe they will evolve," pioneer Louie Finkle mused, into Back to the Future anti-gravity type things."
Currently, Finkle is a designer of electric motors and owns over fifty patents. He is a machinist and welder and owns a manufacturing company.