Avengers: Infinity War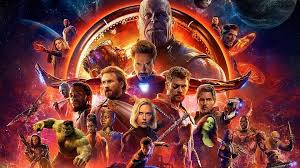 Hang on for a minute...we're trying to find some more stories you might like.
Avengers:Infinity War, released April 27, 2018 by Marvel studios, was full of action. It is highly-recommended for fans of Marvel comics.
In its opening weekend, Avengers Infinity War made $640.9 million, earning it the number-two spot of 2018, just under Marvel's Black Panther.
Internationally, Infinity War broke a Marvel record, bringing in $630 million.
The movie is based off of the comic book The Infinity War. Iron Man, Thor, the Hulk and the rest of the Avengers are forced to battle their most powerful enemy, Thanos. They are on a mission to collect all six Infinity Stones (Space, Reality, Power, Mind, Soul, and Time). Thanos plans to use the artifacts to cause havoc on reality. The fate of the planet and existence itself has never been more uncertain. Everything the Avengers have been through in past movies has led up to this moment.
It took hundreds of actors, writers, editors and more to put this movie together. But there were key people they needed for this movie. Robert Downey Jr. as Iron Man plays a specific role as he tries his best to make a hero out of a kid that just turned 18. Chris Evans, Captain America,  is the shot caller on the ground floor. Mark Ruffalo as Hulk had a small amount of screen time, so the fierce Bruce Banner had to step it up and fight. Chris Hemsworth's character, Thor, is a key component to the plot and to the battlefield. He has finally mastered his abilities and dominates his opponents. Tom Holland, The Amazing Spider-Man, is a young hero who proves fearless when it comes to saving the world. And finally Zoe Saldana played Gamora, the daughter of the villain Thanos. She is forced to go against the odds and fight someone for whom she still cares deeply.
The movie has an 84% rating so far on Rotten Tomatoes of 84%. This is slightly higher than the last Avengers movie, Age Of Ultron, which has a score of 75%.
The film earned positive reviews from most critics.  Molly Freeman from Screen Rant said, "Infinity War delivers an exciting culmination of the Marvel Cinematic Universe."