The tragic fall of Toys 'R' Us
Hang on for a minute...we're trying to find some more stories you might like.
On September 18, 2017 Toys'R'Us filed for bankruptcy due to the high amount of debt it had accumulated. Toys'R'Us' $5 billion in debt made it hard for the company to continue. The company started to sell its assets at a highly marked down price on March 23 and recently shut down its website.
Toys'R'Us could not compete with other companies who sold toys and games at further marked-down prices. It is estimated that Walmart, Amazon, and Target took much of their sales.
Toys'R'Us was put up for sale because it was going under. The buyers bought Toy'R'Us with loans and then put it to the company to pay off that debt. The company was unable to complete this task and had to file for bankruptcy.
The past few weeks have definitely been devastation for Toys'R'Us and its patrons.  It has been a popular company for many years. Most or all of Toys'R'Us' American locations will be sold or shutdown.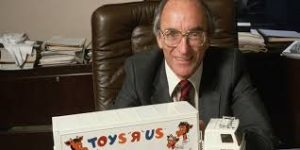 But most tragic in the fall of Toys'R'Us is the fact that just a week after announcing the bankruptcy and closures,  founder of the company, Charles Lazarus, died at age 94.  Some note Lazarus' death as tragic since his last moments were watching his company go bankrupt.
Though he was no longer CEO as he stepped down in 1994, Lazarus devoted his life to Toys 'R' Us.  He started the company in 1948, at the age of 25. According to CNN, it started small then went public in the 70s.  Then in the early 90s, it took off, growing from a $1 billion to an $11 billion business.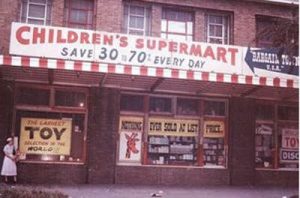 The Toys'R'Us shutdown has been problematic to a lot of people, both shoppers and employees. As of the liquidation, 33,000 employees instantly lost their jobs–one of the largest layoffs in the past fives years. Furthermore, Toys'R'Us stopped accepting gift cards on April 20. As CBS News quotes Steven Selbst, Toys'R'Us' chair of restructuring and bankruptcy, "As a legal matter, [Toys 'R' Us] isn't required to honor those gift cards."
Additionally, according to Forbes, the closures of the Babies 'R' Us stores are causing inconvenience to "hundred of thousands of expectant parents" who had created gift registries for upcoming pregnancies.
An anonymous employee at the Mayfield location noted that the store does not have an official close date. She said, "We'll be here until it's all gone…We're not sending it off like some stores." In short, the store will shut down when it has sold off all of its wares.  Currently, at the Mayfield location, everything is marked down 10-15% off. Checks are no longer being accepted, and there are no returns.
Toys'R'Us has had a tragic fall from grace, and the death of its founder, Charles Lazarus, made it even more tragic. Watch the video below for some of the store's vintage ads.