Understanding twins
Hang on for a minute...we're trying to find some more stories you might like.
What is a twin?
Twins are two individuals born in the same birth. There are two different types of twins: fraternal and identical.
Identical twins are those that have nearly the same genetic code, therefore sharing their appearances. Identical twins, also called monozygotic, are the result of a single egg splitting.  Identical twins are always the same gender and blood type.  Interestingly, they have unique fingerprints.  The chances of having identical twins is about 1 in 350 to 400 (or about 3 or 4 per one thousand births.) One-third of all of the twins in the world are identical.
Fraternal twins are more common–between 6 and 20 per thousand births. Interestingly, the rate of fraternal twins varies a lot depending on where the mother lives.  Fraternal twins are those that do not share the same genetic make up. Fraternal twins occur when two eggs are released at one time. Since fraternal twins share about 50% of the same genetic makeup–the same as any other sibling, not all fraternal twins look alike, and they do not have to be the same sex.
It is possible for a mother to give birth to two twins of different races, also known as multi-racial or mixed-racial twins. This can occur if the mother and father are of different races.  While there are many multi-racial twins, they do not happen often. The chance is 1 in 500.
One set of twins, Marcia and Millie Biggs, appeared on the cover of National Geographic and were interviewed on
Good Morning America, due to their unique appearances. Marcia has blue eyes and pale skin, while Millie has brown eyes and brown skin.
Kalani and Jarani Dean just celebrated their first birthdays in April. When they were born, their parents were initially surprised by the difference in their skin color.  Mother Whitney Moore told Today, "They look alike in their smiles, but I have to dress them the same because nobody believes that they are twins. I mean, nobody," she said.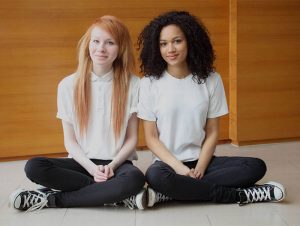 Lucy and Maria Aylmer, now 20, shared a similar story.  Born to a Caucasian father and half-Jamaican mother, the girls' appearances left people in disbelief. Lucy has light skin and red hair, while Maria has darker skin and hair. "No-one ever believes we are twins because I am white and Maria is black," Lucy told BoredPanda. "Even when we dress alike, we still don't even look like sisters, let alone twins. When we've met friends for the first time they never believe we are twins and they have even made us produce our birth certificates to prove that we are actually twins."
Far rarer than multi-racial twins, in 2009, a woman gave birth to twins with two different fathers, which Dr. Hilda Hutcherson, Clinical Professor of Obstetrics and Gynecology at Columbia University, says is a "one-in-a-million" chance.
What is it like to have a twin?
According to a few interviewees–each of which whom was a twin–having a twin can be very fun and very stressful.
"People get us mixed up all the time," stated Aidan and Mason Arth, fraternal twins who happen to look exactly alike. "We have to share everything with each other."  Both claim to hate having a twin, often wishing that they were not twins. Despite looking identical to most people, their family is able to tell them apart. Also, they brought up that people believe they have their own personalities, despite their shared athleticism.
Sal and Frankie Palmisano, another pair of fraternal twins, are often mistaken for each other. "It's kinda funny," Frankie stated. Once, they tried to prank their parents by dressing the same, but it was unsuccessful.
"I want him by my side at all times because I know he's always got my back," Frankie confessed. "We do everything together. Whenever one of us switches sports we always end up doing the same thing together."
Cheryl Willis, a Special Education Tutor at Mayfield Middle School, has two identical twin girls. She stated, "When they were very young they always would always wear the same clothing, but as they grew older–to the age eleven–they stopped wearing the same clothes because they wanted to be able to build their own identities."
People often confused the Willis twins, which they got used to over time. Like the Palmisanos, they once tried to confuse their family by wearing the same clothes and imitating each other's personalities, but it did not work.
Mrs. Willis says her twins have each other's back and love to spend time together. When they were younger, they hated having a twin, but as they grew older they grew out of that and loved and embraced the fact that they had a twin, realizing it was not a bad thing after all.