Drama Club takes a bow at sixth annual recital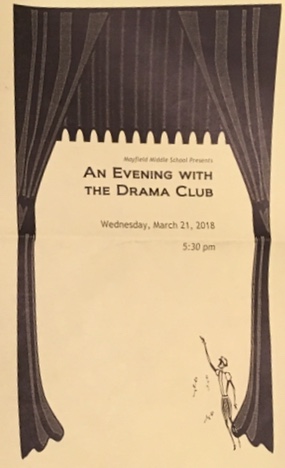 Hang on for a minute...we're trying to find some more stories you might like.
On Wednesday, March 21, twenty-four students performed in a theater recital in the Mayfield Middle School auditorium as a part of the Drama Club's culminating event.
The recital consisted of nine scenes which were narrated by eighth grade student, Hailey Nelson.
Each scene was a fractured fairy tale, so they included characters and events from fairy tales and nursery rhymes but added twists to the plots. For example, one scene, called "Lost and Found," was about Little Bo Peep meeting Mary (from "Mary Had a Little Lamb") while looking for her lost sheep. Another scene, "You Lookin' at Me?" depicted Little Red Riding Hood teaching a self defense class, which was attended by Sleeping Beauty, Snow White, and Cinderella.
Students had costumes and props for their scenes that ranged from pig ears, noses, and tails to pumpkins to a crown and cape.
Mariana Quinones, an eighth grader who acted in the recital, stated that she really likes performing, explaining, "Getting to turn into this whole new person is really fun."
Mary Jo Baetzold, seventh-grade Drama Club member, described performing as "a little scary as you're coming on the stage" but added "because we've practiced so much…you forget about the people who are watching you because you are so engaged with the play."
As fun as performing can be for many Drama Club members, it takes a lot of work to put on a recital.
Students participating were each assigned one or two scenes for which they had to rehearse, memorize lines, and learn blocking. Scenes were assigned based on the actors' personalities and what role the club advisers believed would be best for them.
Students met directly with their partners and one of the club advisers to work on their scene. They also attended meetings in which they ran through the recital; this included one dress rehearsal the day of the performance.
 Many students spent time outside of school preparing for their scenes, too. Seventh grader Angie Marvaldi looked over her scripts a lot and ran lines with her family members. Sarah Fricke, also in seventh grade, also practiced her lines with her family as well as over the phone with her scene partners.
Mrs. Saunders stated that seeing the hard work that the students put in to being performance-ready was one of her favorite things about the recital, adding, "I like the energy of it… [and] the sense of accomplishment that students feel when it's finally done."
Mrs. Bean agreed, saying she likes seeing students feel successful after performing. She also enjoys seeing kids coming out of their shells and having the chance to feel like they belong.
Mrs. Bean and Mrs. Saunders held the first recital when they started Drama Club six years ago. They wanted to give students some drama experience for fun and possibly aid their pursuits of participating in high school or community theater. They chose to have a recital, as opposed to a play, so everyone would be able to participate equally.
 Mrs. Saunders remarked, "I was really happy with [the recital]. The students did a great job…and the audience enjoyed it."