Black Panther: Likely the biggest movie of 2018
Hang on for a minute...we're trying to find some more stories you might like.
Black Panther, released in January by Marvel Studios and Walt Disney Studios Motion Pictures, was one of the best movies I've ever seen. It was entertaining, inspiring, and full of African culture. I encourage all ethnicities to go see the movie. It was so good  that I saw the movie three times in two weeks.
Audiences agree.  Just in its first weekend, it made $245 million.  In mid-March, it hit $1 billion globally.  And as of April 3, Black Panther  is the fourth-biggest box office hit of all time in the U.S., with domestic earnings of $625 million.
In the movie, based on the Marvel comic book hero of the same name, T'Challa is the prince of Wakanda. When his father dies, it is his turn to rule. But when his vengeful cousin Erik comes to take over Wakanda, Black Panther must defend his nation. The character Black Panther made his debut in Captain America: Civil War. At the end of the credits it showed a little scene that said, "Black Panther will return."
Black Panther has been praised for his celebration of African culture.  At the premiers, the theaters were full of all different dashikis, tunics traditionally worn in West Africa. The cast of the movie were mainly Africans or African-Americans. Chadwick Boseman plays T'Challa (Black Panther), and Michael B. Jordan who has been trying to get into the superhero business finally got his chance but as the villain, T'Challa's cousin Erik Killmonger. Lupita Nyong'o plays his love interest. One of the most important characters who showed courage and loyalty is Okoye; she was played by Danai Gurira.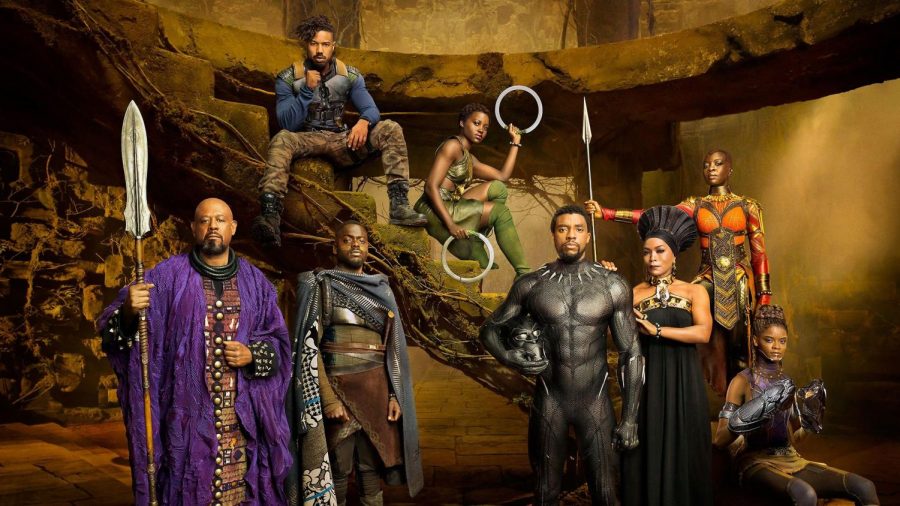 Black Panther has affected many people emotionally and spiritually. "Black Panther has a good heart, and it gives us a real hero—strong and honorable and, when possible, even filled with grace," said Paul Asay from Plugged In. The movie isn't about one superhero either. It has many messages and lessons. It also teaches that women can be strong and powerful.
Another message of the film is that people can come back from anything. Black Panther was challenged to take his spot as king, and he accepted the challenge. The story shows the importance of perseverance and self-belief.
Black Panther was an amazing movie; everyone should see this emotional film.