The Oscars: How It All Started
Hang on for a minute...we're trying to find some more stories you might like.
NOW
Hosted by Jimmy Kimmel, the 2018 Oscars took place on March 4 at 8 PM, airing on the ABC Television Network. The Oscars provides awards for artistic and technical achievement in the film industry. It featured many well-known actors, such as Meryl Streep, Denzel Washington, and Margot Robbie.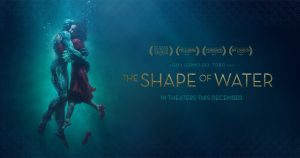 The most important award presented was the Academy Award for Best Picture, which went to The Shape of Water.  It beat out the other nominees: Get Out, Call Me By Your Name, Darkest Hour, Dunkirk, Lady Bird, Phantom Thread, The Post, and Three Billboards Outside Ebbing, Missouri.
Best Actress and went to Frances McDormand, and Best Actor was awarded to Gary Oldman. Allison Janney received Best Supporting Actress, and Sam Rockwell Best Supporting Actor.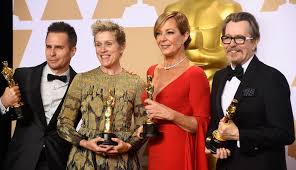 Coco won for Best Animated Film and Best Original Song.
THEN
The very first Oscars took place almost 90 years ago on May 16, 1929 in the Blossom Room of the Hollywood Roosevelt Hotel. Only around 270 people attended, and the tickets cost a whopping $5 each.
Douglas Fairbanks, the president of the Academy of Motion Picture Arts and Sciences, handed out 15 awards in the span of five minutes. The award ceremony was very anticlimactic compared to today's Academy Award ceremonies because the winners had already been announced months prior.
In 1929, movies were just starting to transition from silent movies to what they called "talkies" which was movies that actually had dialogue. Since movies with dialogue wasn't popular yet, all the "Best Picture" nominees were without sound. For the only time in Academy History, the "Best Picture" honors were split into two categories: Best Picture- Unique and Artistic Production, and Best Picture- Production.
The winner in the first category was a romantic drama called "Sunrise:
A Song of Two Humans" starring George O'Brien and Janet Gaynor. William Wellman snagged the award for the second category with his film "Wings," which was set in the World War I-era. It starred Clara Bow, Charles Rogers, and Richard Arlen.
Other winners included the German actor, Emil Jannings,  winning best actor for the films "The Last Command" and "The Way of All Flesh" and Janet Gaynor as best actress. She had received three of the five nominations in the category and was honored for all three roles: "Sunrise," "Seventh Heaven," and "Street Angel."
The Oscars wasn't named "The Oscars" until 1939 when sources said that Margaret Herrick claimed that the statuette resembled her uncle Oscar so the award just took on the name.
The Oscars may be only one night long, but the legacy of movies are here forever.