One Interesting Fact About Each U.S. President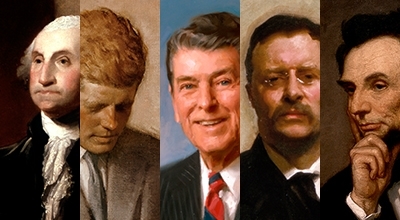 Hang on for a minute...we're trying to find some more stories you might like.
There is an extraordinary amount of information to discuss when it comes to the United States and its 220-or-so years of Presidents. From their own achievements in office to what they did in their childhoods, the potential is nearly limitless.
You know George Washington was the first United States President ever, but did you know he was also an avid animal lover and would never go fishing or hunting? Or how about how President Grover Cleveland served two non-consecutive terms? Even for some of the most "forgettable" presidents, there is an absolute pool of information.
This is a list of random facts for all 45 U.S. Presidents in chronological order. Hopefully you will be a little bit smarter in your next U.S. History class or even just in friendly conversation.
George Washington: George Washington was known to be a very good dancer and loved to dance.
John Adams: Despite pressure from his Cabinet and Congress, John Adams never went to war with France and England. He instead sent peaceful negotiation teams.
(Fun fact: John Adams and Thomas Jefferson both died on the same date, which happened to be the 50th anniversary of the signing of the Declaration of Independence.)
Thomas Jefferson: Thomas Jefferson practiced violin for several hours a day and spent even more time studying.
James Madison: Both of James Madison's Vice Presidents died in office. He was also the shortest President ever, at five feet, and the skinniest at just 100 pounds!
James Monroe: James Monroe introduced the Monroe Doctrine to the world, denying European nations to colonize any southern or northern American territory.
John Quincy Adams: John Q. Adams at a young age accompanied his father to France and would study at foreign colleges, going on to fluently learn seven languages. He also enjoyed skinny dipping in the Potomac River most mornings during his presidency.
Andrew Jackson: Jackson unknowingly married a woman who was already married, but believed she had gotten a divorce. This lead to the disgruntled ex-husband calling his ex-wife slurs, which led to Jackson challenging the man to a duel and murdering the man in cold blood.
Martin Van Buren: Franklin Delano Roosevelt isn't the only President to marry a distant relative. Martin Van Buren married his cousin Hannah Hoes in 1803, and they had four kids together. Hannah died in 1819 of tuberculosis, and Martin never remarried. (He was also the only President for whom English was not his native language.)
William Henry Harrison: There is not much to talk about with William Henry Harrison, as he had the shortest presidential term in history, at just 31 days (yet, he ironically gave the longest inaugural speech in history.)
John Tyler: John Tyler was the first President to assume the role of President as Vice President, after the death of the previously inaugurated president.
James K. Polk: James K. Polk promised the American public to only serve one term, and he did so, not running for re-election. Ironically, he died the following summer at age 53.
Zachary Taylor: Taylor was a slave owner himself, however, he came to disagree with expanding slave states. Ironically, his son Richard went on to serve as a general in the Confederate army.
Millard Fillmore: Millard Fillmore personally fought a fire that broke out at The Library of Congress, which he founded with his wife. He then signed a bill to replace all books destroyed in the fire.
(Fun fact: Millard Fillmore and his wife established the library, and it became the first Library in the White House.)
Franklin Pierce: Franklin Pierce was a firm believer in Manifest Destiny, which made him extremely unpopular with northern states, seeking to instead solve the issue of slavery expanding to the western colonies.
(Fun Fact: Franklin's father was Benjamin Pierce, a Revolutionary war hero).
James Buchanan: James Buchanan is often thought as one of the worst presidents in history. This is almost entirely because he had done little to nothing to stop the Civil War and cool the tensions of the north and south. He also failed to contest the secession of the confederacy. (He was also the only President to never marry.)
Abraham Lincoln: Lincoln had almost unlimited power during his presidency. The Executive Branch was quite limited in power before his presidency, but Lincoln made a significant impact in making the executive branch far more powerful. Due to the Civil War, he had to expand his power. However this did not last, as the next presidency saw a change in this.
Andrew Johnson: Andrew Johnson was the first President to ever be impeached. Andrew Johnson was impeached by Congress for several reasons, mostly because he broke the Tenure of Office Act of 1867, which disallows the president to remove office holders without approval from the senate. He was however, acquitted, because not a full ⅔ of the senate voted him guilty.
Ulysses S. Grant: His real name is Hiram Ulysses Grant. He dropped Hiram at West Point, and classmates added the S, so he'd be U.S. Grant.
Rutherford B. Hayes: Hayes was the first president to use a telephone while in office.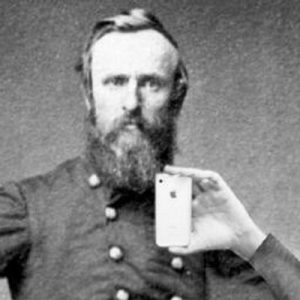 James A. Garfield: James A. Garfield was the only president to be a preacher. He was a minister of the Disciples of Christ Church. He could also write in two different language, with both hands, at the same time.
Chester A. Arthur: Two days before dying, Chester A. Arthur ordered the destruction of all of his personal and legal records.
Grover Cleveland: Grover Cleveland, before becoming president, was actually a school teacher.
Benjamin Harrison: Benjamin Harrison's presidency saw electricity being installed in the White House for the first time. Benjamin and his wife actually never used the light switches out of fear of electrocution.
(Fun Fact; Benjamin's grandfather was the late William Henry Harrison, 9th president of The United States.)
Grover Cleveland: He was, and remains the only president to serve two non-consecutive terms as president, as the 22nd and 24th president.
William McKinley: When McKinley was shot, the assassin was severely beaten by a crowd, and McKinley showed remorse for the assassin, shouting, "Boys! Don't let them hurt him!"
Theodore Roosevelt: Theodore Roosevelt was Eleanor Roosevelt's (Franklin Delano Roosevelt's wife) uncle, and presented the bride at Franklin and Eleanor's wedding.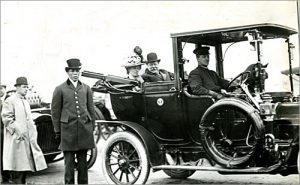 William Howard Taft: William Howard Taft was the first president to own a car, and he converted the White House stables into a garage.
Woodrow Wilson: Woodrow Wilson is the only President to be buried in Washington, D.C.
Warren G. Harding: The Teapot Dome Scandal was a scandal that took place during Warren G. Harding's Presidency, one of many, including another that didn't come to light until he left office.
Calvin Coolidge: He went by his middle name, "Calvin." His first name was John
Herbert Hoover: Hoover was the first president born west of the Mississippi River.
Franklin Delano Roosevelt: He was the only President to serve more than two terms. He was also a life-long stamp collector. Due to polio, he was in a wheelchair.
Harry S. Truman: Truman had one of the most varying approval ratings in history. His ratings peaked at 88% and hit an all time low of 22%. (Also, the S in his name doesn't stand for anything!)
Dwight D. Eisenhower: Dwight was an avid golfer, and when a golfing green was installed at the White House, squirrels in the garden used it to dig their nuts. Dwight was so annoyed by them he ordered his valet, Sgt. John Moaney, "The next time you see one of those squirrels go near my putting green, take a gun and shoot it!" No squirrels were ever fired upon.
John Fitzgerald Kennedy: Kennedy donated all of his congressional and presidential salaries to charity. After all, he was already incredibly wealthy from his father's trust funds.
Lyndon B. Johnson: In 1948, Johnson won a vote for the U.S. Senate by 87 votes, out of over 900,000.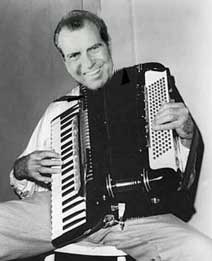 Richard Nixon: Nixon could play five different instruments: piano, violin, saxophone, clarinet, and accordion. He also had experience with another instrument, called the tape recorder.
Gerald Ford: Gerald Ford is the only President to be both President and  Vice President and not be elected for either position. He became Vice President because Nixon's Vice President, Spiro Agnew, resigned, then he took Nixon's position when he resigned.
Jimmy Carter: Jimmy Carter received a Nobel Peace Prize for "his decades of untiring effort to find peaceful solutions to international conflicts, to advance democracy and human rights, and to promote economic and social development."
Ronald Reagan: Ronald Reagan started eating jelly beans to help deal with his pipe smoking problem in 1967. His favorite flavor was licorice.
George H. W. Bush: George H. W. Bush dropped out of Yale University to become a Navy pilot after Pearl Harbor. Bush's plane was shot down in 1944, but he survived it and was awarded the Distinguished Flying Cross.
Bill Clinton: Bill Clinton as a teenager was actually so impressed with Martin Luther King Jr.'s "I Have a Dream'" speech, that he memorized it word for word after hearing it.
George W. Bush: George W. Bush is the first President to have finished a marathon entirely, finishing with a time of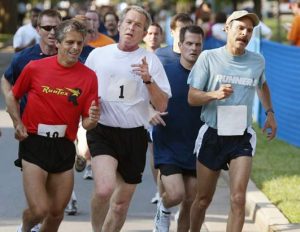 3:44:52.
Barack Obama: In Obama's father's home country of Kenya, a school in Kogelo, Kenya was renamed to "The Senator Obama Kogelo Secondary School."
Donald Trump: Donald Trump was sent to New York Military Academy, a military school, when he was thirteen for misbehaving.
So there you have it. 45 facts for 45 presidents spanning over 229 years.
Sources:
history.com
constitutioncenter.org
republicanpresidents.net
presidential-power.org
Intellectualtakeout.org
usnews.com