Earth Hour: Turning off lights for a more sustainable future
Hang on for a minute...we're trying to find some more stories you might like.
On March 24, 2018, from 8:30 to 9:30 P.M. local time, people all over the world will participate in Earth Hour to raise awareness about climate change.
Earth Hour is a movement initiated by the World Wildlife Fund (WWF). To support this movement, people, groups, and businesses worldwide turn off their non-essential lights for an hour around the end of March to encourage action on climate change.
Anyone can participate by just turning off their lights, though many choose to do more than that.
As explained by earthhour.org, "Participation in Earth Hour symbolizes a commitment to change beyond the hour."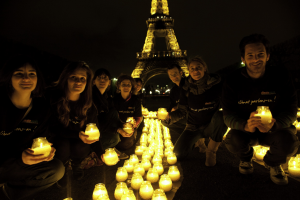 Tool kits are available on the Earth Hour website with ideas for activities to do with the lights off. Suggestions include playing board games, stargazing, and eating dinner by candlelight.
The tool kits also provide ways for people to positively impact the planet outside of the hour, such as using reusable bags, walking or riding the bus more and driving cars less, choosing to use LED lights, and printing less paper.
There are also other ways to support Earth Hour. People are asked to donate their social media by creating five posts about the movement and the need for action and awareness for climate change. Posts can use #Connect2Earth to indicate commitment to the movement.
Those wanting to promote Earth Hour can also hang up posters and use the logo and banners on websites and blogs.
Being promoted like this has helped Earth Hour grow in popularity since it started in 2007 in Sydney, Australia, when WWF-Australia, Leo Burnett, and Fairfax Media formed a partnership to call attention to climate change and the need for more sustainable living.
As of 2016, it had spread to about 2.5 million people, along with businesses and organizations, in 178 countries around the world. Also in 2016, nearly 12,700 landmarks participated in the movement.
Already this year, many landmarks have committed to being a part of Earth Hour, including the Philadelphia Zoo, the Space Needle in Seattle, Niagara Falls, and the Empire State Building.
As a result of the raised awareness and support from so many, a large number of actions have been made towards living more sustainably. For example, Girl Scouts around America have installed thousands of LED lights, which are better for the environment. Villages in India without electricity had solar powered lights set up and thousands of Madagascan families received wood-saving stoves.
To help continue these actions, people interested in participating can go to earthhour.org to join the movement and help create a more sustainable future.
As stated by worldwildlife.org about Earth Hour, "Together, we can tackle climate change and create a future where people and nature thrive."