Team LeBron Wins NBA All Star Game
Hang on for a minute...we're trying to find some more stories you might like.
In the 2018 NBA All-star game, held at the Staples Center in Los Angeles, California, the team captained by LeBron James beat Stephen Curry's team,  148-145. LeBron, with 29 points, 8 assists, and 10 rebounds, won his 2nd All-Star MVP award.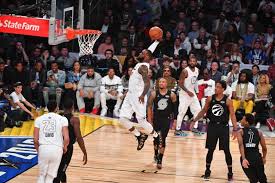 All of his team's earnings and a brand new KIA car will go to a charity that LeBron selected.
This year was the 66th consecutive year that the NBA hosted an all star game, but this year's game followed a new format.  In the past, the teams were West vs. East, and players were voted in.  (Last year's NBA all star game the West beat the East 192-182. It was the West's 3rd consecutive win, which may have been part of the reason for the format change.) This year, the NBA decided to revamp it–choosing LeBron and Steph as team captains and allowing the two players to draft the 2018 all star teams from the pool of players voted onto a ballot. It did not matter what conference the players were in. 
In scoring, Kevin Durant came in right behind MVP LeBron 19 points, 5 assists, and 6 rebounds, which also helped team LeBron win the game.  Anthony Davis, Kyrie Irving, and Russell Westbrook finished with a combination of 36 points.
But Team LeBron didn't win the game easily. Team Curry came to play with Giannis Antetokounmpo leading the charge with 16 points, 2 assists, and 7 rebounds. Demar Derozan also had a nice game with 21 points, 2 assists, and 6 rebounds. Joel Embiid, Stephen Curry, and James Harden combined to make 42 points.
The entire game was close with the teams trading the lead, but at the end of the game LeBron and Russell both hit two clutch layups to make the score 148-145.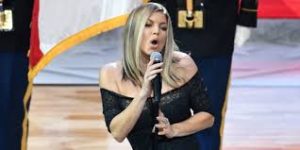 The athletes weren't the only ones to make headlines for the All Star Game. Before the game, The Star Spangled Banner was sung by Fergie. The performance was declared by most to be a failure. During the performance a number of NBA Players started smirking, trying their hardest to not burst out in laughter. Her performance was rated the worst National Anthem performance in NBA All-Star history.



Host Kevin Hart introduced the players and cracked jokes. The halftime show was performed by N.E.R.D co starring Pharrell Williams, who brought special guest, The Migos.