The Tide Pod Challenge, Explained
Hang on for a minute...we're trying to find some more stories you might like.
In January, a challenge called "The Tide Pod Challenge" gained popularity on social media. Teens would talk about and eat Tide Pods–putting them into their mouths, biting them, and then spitting them out after the detergent began to leak out.
The trend began with 'memes' about eating Tide Pods–various jokes about what the colorful and gooey laundry detergent might taste like. It was all a joke until people started to actually eat the Tide Pods.
More than 39 calls were made to Poison Control in the months of January and February, and mostly all of them were intentionally ingested.
Ingesting a Tide Pod is very dangerous due to its chemical makeup. Even one lick of the detergent can cause a terrible burning sensation in the mouth. But actually ingesting a Tide Pod can cause the gel to get stuck in the throat and and result in choking.
According to The Washington Post, last year, U.S. poison control centers received reports of more than 10,500 children younger than 5 who were exposed to the capsules. The same year, nearly 220 teens were reportedly exposed, and about 25 percent of those cases were intentional, according to data from the American Association of Poison Control Centers.
"Children who have been exposed to the capsules have been hospitalized with vomiting, breathing difficulties and loss of consciousness. And the consequences may be much worse. Since 2012, eight fatalities have been reported among children 5 and younger, according to the American Association of Poison Control Centers."
Proctor & Gamble, the company that owns Tide, said on social media, "What should Tide PODs be used for? DOING LAUNDRY. Nothing else. Eating a Tide POD is a BAD IDEA."
Tide Pods might be put away for children's safety but now parents will have to take precautions about their tweens and teens ingesting the dangerous laundry pods. Tide Pods carry significant warning labels–using both words and images to convey the dangers.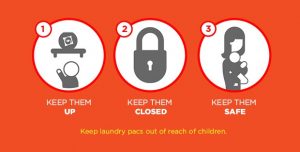 Although this is a popular trend now, this is not the only dangerous challenge to hit social media in recent years. In fact dangerous trends like the Kylie Jenner lip challenge, the cinnamon challenge, and the alcohol and fire challenge also landed people in the ER. The reason why these challenge happen and become popular is unknown. Teens are putting themselves at risk, presumably, for attention. YouTube is making efforts to locate and disable all videos related to The Tide Pod Challenge to limit this as motivation for teens.