The Race to the First Trillion-Dollar Industry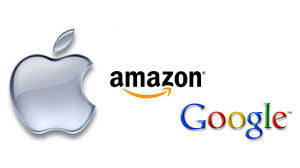 Hang on for a minute...we're trying to find some more stories you might like.
Apple, Amazon, and Alphabet (the company that owns Google) are the three American technology giants in a race to  be the first company to be valued at a trillion dollars. This upcoming historical mark will be the first time an American company will reach the mark. Apple is the frontrunner considering their new iPhone X, which costs $1000, was released in early November. But, Alphabet and Amazon have a real chance as well.
Apple leads the pack with a net worth of 860 billion dollars. Alphabet follows behind with a net worth of 817 billion dollar, and Amazon in third with 700 billion. Nevertheless, when or if the companies hit the milestone, it will be a major achievement. The question is, what company will reach it first?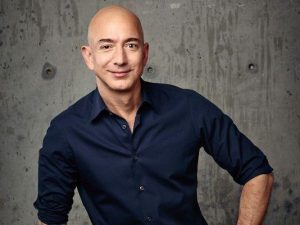 Recently, Amazon's CEO Jeff Bezos passed Bill Gates as the richest man in the world, with a net worth of 104.4 billion dollars. Also, with the world relying on the shopping more than ever and Amazon Prime getting people their purchases in two days with free shipping, Amazon is on the top of the game right now.
Not to mention, the company started Amazon Prime Video, which is a TV show and movie streaming service that offers competition to services like Netflix and Hulu, as well as Prime Pantry, which offers grocery deliveries.  They also implemented Amazon Alexa, a smart assistant which can answer questions, play music, set reminders, and reorder favorite items with voice commands. Amazon also owns Twitch, a website in which content creators live-stream mostly video games, and Audible, the largest website for audiobooks.
Amazon is looking to reach a trillion dollars in 2018–a goal that seems possible considering their stock went up 50% in 2017 alone.
Alphabet, the parent company of Google, is second to Apple with a net worth of $816 billion. Alphabet not only owns everything under the Google name but also companies like YouTube and Android. YouTube, the second-most-visited website behind Google, is the world's largest website, where original content creators can upload any videos (as long as they falls under Youtube's Community Guidelines.)
Android, the operating system for Samsung phones, is the largest competitor of the iPhone. They have phones such as Samsung Galaxy S8 and Samsung Galaxy Note 8 to attempt to compete with the dominant Apple. Alphabet also produces their own smartphones under the Google name, such as the Google Pixel 2 and the Google Pixel 2 XL, which offers more competition to Apple and the iPhone.
Alphabet is expected to report that their total revenue is up 20% from last year. Alphabet also has an assistant called Google Home, which has the same capabilities of Amazon's Alexa. Alphabet has the two largest and most-visited websites in the world. For that and many other reasons, Alphabet is in the running for the first trillion dollar company.
Apple, the frontrunner, has a net worth of 860 billion dollars. Led by CEO Tim Cook, Apple is another technology giant. With products such as the iPhone, iPad, iPod,  Chromebook, and Macbook, Apple is the leader in many major categories of technology.
Although they had the lowest growth in 2017 among the three companies, just 10%, with Apple's new $999 product, iPhone X, Apple could possibly reach the mark in 2018 easily. Sales of the iPhone X will have to be very high for Apple to reach it anytime soon, though. It would probably have to break their sales record to reach 1 trillion dollars, which considering the price tag, isn't too out of reach for Apple.
Apple also owns Beats Electronics, arguably the best headphones on the market, as well as the app Shazam, which recognizes songs being played. It will give users the title and artist of a song being played.
Apple has many other products such as the Macbook Pro, iPhone 8, and iPhone 8 Plus. Apple will likely hit the 1 trillion dollar mark in 2018.
In all, 2018 is likely to be an interesting year in technology. Apple, Amazon, and Alphabet are definitely the three American technology giants, as they have destroyed the rest of the competition. Many people predict that it will be Apple that will be the first to 2018, but in all honesty, it can be any of the these three companies.