Art Students Make Community Service Trip to Highland Pointe
Mayfield Middle School takes pride in volunteering and community service, which Heather Vokic, the art teacher at the middle school, has continued. On February 1, she led students–including Angelie Ball, Pedro Chiesa, Nadia Gerbasi, Kassie Holfeltz, Lani Petruccio, Gloria Price, and Ashlee Woodson–from her art class to paint a Valentine's Day themed mural for residents of Highland Pointe, a nursing and rehabilitation home in Highland Heights.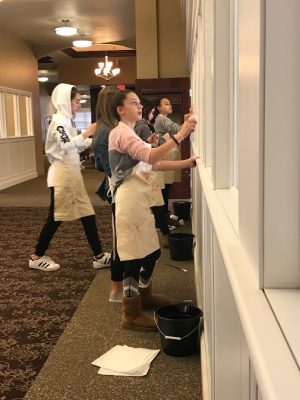 The mural took approximately three hours to paint and was designed by the students. Once the students arrived at Highland Pointe, they divided the work and planned the mural. First, a design was drawn on the windows with bar soap. After that, the most time- consuming step: painting the designs. Finally, details such as a black outlines on the hearts and arrows and the addition of flowers, were added. The symmetrical design was painted on a series of eight square glass windows, featuring Cupid firing an arrow with a heart-shaped arrowhead into a large heart, surrounded by many other small hearts, completed with a border of vines and flowers.
"I think [the mural is] terrific. It's refreshing, it's novel, and it's great to look at," stated Mary, a senior resident at Highland Pointe.
Community service is not only important because of the gratification received upon helping individuals, but, also, it teaches professionalism, communication skills, leadership, and teamwork; a central idea cited by both Nadia Gerbasi, a painter of the mural, and Amber McNeal, an employee at Highland Pointe. Gerbasi clarified, "It was really nice because we were all working together."
Often, nursing home residents feel secluded from society; they rarely have the chance to interact with younger generations. Before, during, and after the mural was painted, residents asked questions and initiated conversation with the students, who would cheerfully answer.
There was a positive atmosphere with the staff, students, and residents. McNeal also added, "It's important for our residents to see the younger generations." Interaction between generations promotes diversity, inclusion, and social connectedness.