18 School Shootings in 44 Days
Hang on for a minute...we're trying to find some more stories you might like.
School shootings are seemingly becoming a common occurrence throughout the United States, with children and teenagers being the primary attackers. As of publication, the longest amount of time passed in 2018 without a school shooting is seven days. Though 2018 has barely begun, there have already been eighteen school shootings-an average of more than two per week.
The most recent of these occurred on February 14 at Marjory Stoneman Douglas High School in Parkland, Florida. Expelled student, nineteen-year old Nikolas Cruz, was taken into custody after murdering 17 people, students and teachers, with a semi-automatic weapon. In addition to the deceased, 14 students that were injured were taken to nearby hospitals.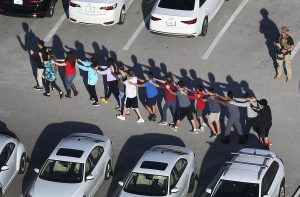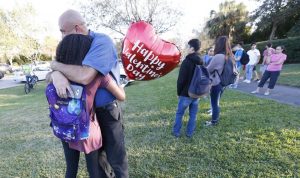 This event, as well as a number of other events within the last month and a half, have reignited conversations about gun control, school safety, mental health, social media, bullying, and more.
45 Days of Violence
At 1:15 PM on January 4, at New Start High School in Washington, a bullet went through a window hitting a cabinet. It was stopped by a three-ring binder. There were no injuries, and police do not have a suspect.
Two days later, on January 6, in Forest City, Iowa, a thirty-two-year-old man shot at a school bus. No one was injured, however, the bullet shattered a window.
On January 10, at Grayson College in Texas, a bullet from an accidental discharge shot through a classroom wall, travelled all the way through, and exited through a window. According to Giles Brown, Vice President of Business Services, a criminal justice club advisor was teaching two students to use a firearm, using a training gun and a real gun. He set the real weapon in a box, and a student, thinking it was the training one, picked it up, setting it off. No one was injured.
Also on January 10, at California State University in San Bernadino, students were forced into lockdown for over five hours after a gun was fired off campus, striking the Visual Arts Building. No one was injured.
On January 15, at around 12:15 AM at Wiley College in Texas, two individuals in a black sedan shot at another individual in a parking lot. The person was not injured. The sedan later crashed into a wall, damaging both the car and the wall. The suspects fled the scene before the cops could arrive.
On January 20, at an event at Wake Forest University in Winston-Salem, North Carolina, Najee Ali Baker, a twenty-one year old student attending Winston-Salem State University, was shot at around 1 AM. The police were called after a gunshot was heard following an argument. Baker was driven to the hospital, where he later passed away.
On the morning of January 22, at Italy High School Texas, a sixteen-year-old male attacked a fifteen-year-old female in the school cafeteria. After being shot multiple times, the fifteen-year-old was airlifted to a hospital. The shooter was taken into custody.
Also on January 22, at around 1:30 PM in the NET Charter School's parking lot, located in New Orleans, a group of students were shot at by an unidentified individual in a dark pick-up truck, who immediately fled the scene. Nobody was shot, however, a fourteen-year-old suffered a skin abrasion on his elbow.
The next day, on January 23, a fifteen-year-old boy was arrested at Marshall County High School in Kentucky for injuring sixteen people and killing two others, Bailey Holt and Preston Cope, both 15. During the shooting, many students fled the scene.
On February 1, at the Sal Castro Middle School in Los Angeles, a 12-year-old girl brought a firearm into school. It allegedly went off inside of her book bag in a classroom shortly after the opening bell, leaving a fifteen-year-old boy with a wound to the head, a fifteen- year-old girl with a wound on her wrist, and two other children with minor injuries. No students died, and all are predicted to fully recover.
In addition to these homicides, three suicides occurred on school grounds.
On January 3, after negotiating with the police for hours, a 31-year-old man shot himself in East Olive Elementary School's parking lot. He had told the cops he was suicidal and had a gun.
Six days later, on January 9, at Coronado Elementary School in Arizona, a 14-year-old boy committed suicide with a self-inflicted gunshot wound in the restroom.
Following all of these events, the incident in Florida caused the following response from President Trump: "We are committed to working with state and local leaders to help secure our schools and tackle the difficult issue of mental health…It is not enough to simply take actions that make us feel like we are making a difference. We must actually make that difference."
Here in Mayfield, Superintendent Dr. Kelly sent a letter to parents and staff stating, "I want our parents and public to know that we are proactive. We place the safety of our students and staff as our highest priority."
Mayfield Schools Safety Reporting Helpline can be called anonymously to report suspicious behavior or threats: 1-866-547-8362.
Special thanks to editor Gloria Price for assistance with portions of this article.