Tribe Fest is a must-do for Tribe fans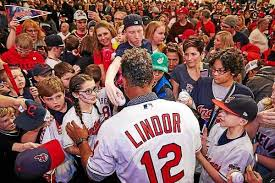 Hang on for a minute...we're trying to find some more stories you might like.
The Cleveland Indians hosted their sixth annual Tribe Fest on Saturday, January 20, 2018. The event was  held at Cleveland Convention Center and allowed fans to interact with their favorite ball players.
This event was the largest that they have ever had. The event sold 70 percent more general admission tickets as it did last year, according to Indians officials.
The main draw of Tribe Fest, the opportunity to interact with players, was even easier this year in the spacious 200,000 + feet Cleveland Convention Center.
More than two dozen Indian players and alumni were present. Fans could guarantee autographs by paying $30 for an alumni ticket or $35 for select players on the Indians' roster. They made sure that they  put one tier player in each group so fans are getting their money's worth.
For example one session may have Francisco Lindor, Tyler Olson, and Nick Goody and the other may have Carlos Carrasco, Bradley Zimmer, and Erik Gonzalez.  Other players like Dan Otero and Yandy Diaz could be found in a big crowd of people for autographs.
The players that attended are Cody Allen, Greg Allen, Yonder Alonso, Trevor Bauer, Carlos Carrasco, Mike Clevinger, Yandy Diaz, Yan Gomes, Nick Goody, Erik Gonzalez, Jason Kipnis, Francisco Lindor, Zach McAllister, Francisco Mejia, Andrew Miller, Tyler Naquin, Tyler Olson, Dan Otero, Roberto Perez,  Jose Ramirez, Danny Salazar, Josh Tomlin,Giovanny Urshela, Bradley Zimmer and head coach Terry Francona.
The  alumni that were in attendance  are Sandy Alomar Jr , Brian Anderson, Marquis Grissom, Sam McDowell, and Greg Swindell.
This event offers fans unique opportunities; not many people can say they got to hit off of Francisco Lindor or get taught how to pitch from Trevor Bauer.  A baseball field stood in the middle of the event. They played thirty-minute games each, and two of the Cleveland Indians were there, too, playing with them. They had batting cages, a speed pitch, bunting challenges, a main stage filled with players , a kids' stage, gaming trucks,  a puppy adoption station, a team shop, and a memorabilia shop, where people buy game-worn Indians gear, and a photo booth for fans and families to get shots with select players like Josh Tomlin, Zach McAllister, Jason Kipnis, Carlos Carrasco and Andrew Miller.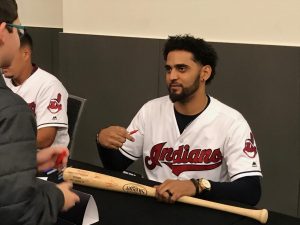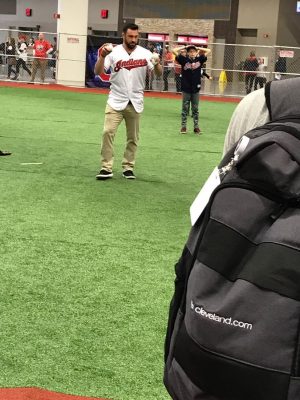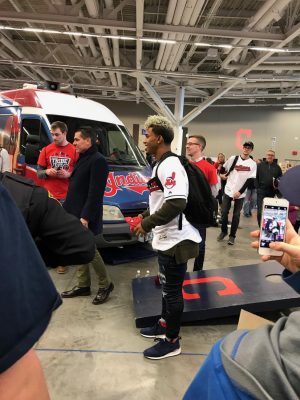 Also at the event, Francisco Lindor was introduced as the cover of  R.B.I. Baseball 2018.
As an attendee, this event had everything they said they would have. Some of my experiences included talking with head coach Terry Francona, learning how to throw a knuckle curve ball from Cody Allen, shaking Andrew Miller's hand, watching interviews of Greg Allen, Trevor Bauer, Carlos Carrasco, Andrew Miller and Roberto Perez, and seeing Mike Clevinger, Jason Kipnis, Yonder Alonso, Josh Tomlin, Francisco Mejia, Trevor Bauer and Greg Allen.
Trevor Bauer, starting pitcher, said the players truly appreciate seeing fans at the event, noting that the weather doesn't always cooperate, and some fans travel from great distances to attend. Bauer also said, "We appreciate everyone that does come out. It's good to connect with fans and try to build excitement for the season on both ends — the fans' side and the players' side– send the message that the season's coming back around and we want to do it together."
"It's very important," Yonder Alonso, first baseman, said. I think I've  gotten my feet wet getting to know all the guys, getting to know the staff. And then obviously with the fans, being able to be here at Tribe Fest and they can see me, and I can see them, and just realize how excited this city is for this team and they can see how excited I am to be here."
The Cleveland Indians typically announce the date of Tribe Fest in the middle of November, and the tickets usually go out in early December. To get tickets, fans can visit the Cleveland Indians website.
Tribe Fest is a must-do for fans next off-season.