The Dominance of Hip-Hop in 2017
Hang on for a minute...we're trying to find some more stories you might like.
To say that this was Hip-Hop's year, would be an understatement. The genre dominated the Billboard charts. For example, at the moment, 14 out of the 20 top songs are under the the genre or have a Hip-Hop artist featured in it. Hip-Hop continuously dominated the charts all throughout 2017.
Many new artists flourished in 2017 such as, Cardi B, Post Malone, 21 Savage, Migos, and Future. Along with the new artists, some Hip-Hop legends like Eminem, Jay-Z, Drake, and Kendrick Lamar released albums this year as well. Many other artists such as Childish Gambino, Tyler The Creator, Vic Mensa, DJ Khaled, and Vince Staples released their most critically-acclaimed albums to date.
So what caused this sudden uproar in the genre?  It is the new generation who are the main listeners of Hip-Hop, as 75% of the genre's consumption comes from people 21 or under. As for why Hip-Hop has taken over such a Pop-driven music industry, it has been thanks to the subgenre of Hip-Hop: "mumble rap." "Mumble rap" or "Soundcloud rap" really took off in 2017 with artists Lil Uzi Vert, Lil Yachty, Lil Pump, Young Thug, and Playboi Carti leading the pack. The subgenre has really captivated Hip-Hop's new young audience. It has been a major influence of how Hip-Hop took over the music industry.
According to Billboard, Hip-Hop accounted for 24.5 percent of music consumption in the U.S., the largest share of any genre. 2017 is the first time that Hip-Hop has led this measurement for a calendar year.
Also, another massive feat for the genre, Hip-Hop surpassed rock as the U.S.'s most popular genre. Album sales, chart-topping songs and albums, and acclimation has all increased from the past. The amount of weeks that Hip-Hop albums and songs spent inside the Billboard Top 20 skyrocketed from 327 to 744 weeks. The amount of weeks that Pop albums and song spent in the Billboard Top 20 decreased from 775 to 517 weeks. It was a major surprise and difference!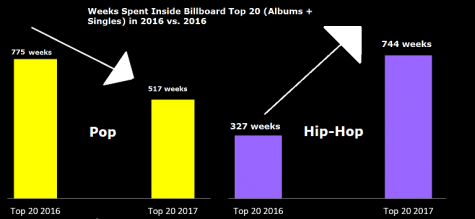 In conclusion, this has been the year of Hip-Hop. It has thrived with the new generation of music listeners wanting something. It has taken over a usually Pop and Rock-driven music industry. It is likely to be the new normal in what music is going look like in the future. It has flat-out dominated the charts. Whether you like it or not, Hip-Hop is here to say.