California Mudslides Destroy Homes and Kill Many
Hang on for a minute...we're trying to find some more stories you might like.
The residents of California have been seemingly unlucky in recent months. First the drought, then the wildfires, and now this? Southern California suffered life-threatening mudslides on January 14 in cities like Montecito and Santa Barbara. With twenty-one people confirmed dead, there are still people missing.
Residents of Santa Barbara are suing a major power company that was supposedly the cause of a massive wildfire. This wildfire stripped hillsides of their vegetation, which allegedly could have prevented these mudslides.
KTLA, a California news station states, "Montecito Water District Financing Corporation was responsible in part for the heavy damage caused by the mudslides because a pipe broke, allowing 9 million of gallons of water to combine with rainwater to produce mudflows." With this pipe breaking, it made the mud easier to flow down.
There were more than 100 homes destroyed by these mudslides. The amount of debris could have taken up three football fields.
Just recently, January 22, a major highway that was severely damaged by the mudslides reopened. This major highway was closed for two weeks because of all the damage caused by the mudslides.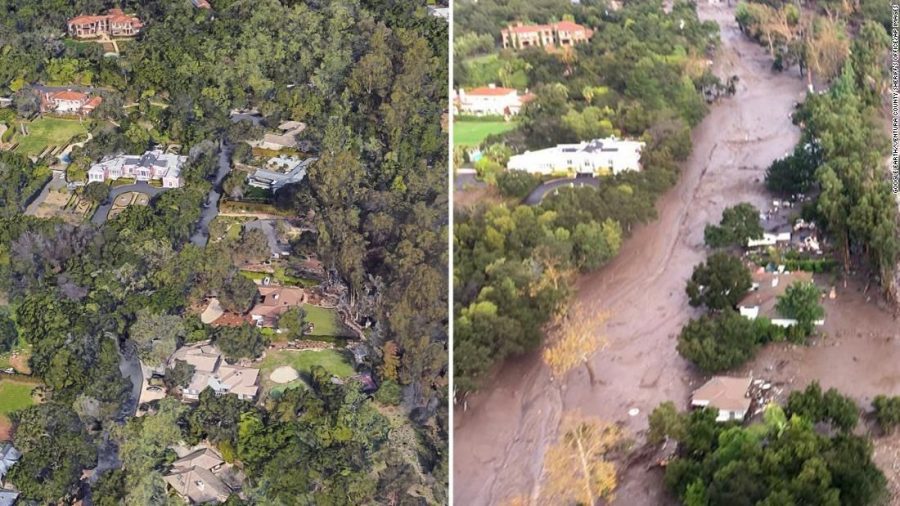 An explanation from Fox News made it seem like these mudslides were bound to happen. "Mudslides typically occur in areas with steep hillsides, gullies and other narrow channels that make it easy for rain, mud and debris to flow through — much like the terrain in Southern California."
Residents of Montecito grieve for their lost loved ones. They continue to rebuild their city. Officials hope to let residents of California return to their homes by January 31, depending on how fast the repairs go. The California governor, Jerry Brown, made Monday a "Day of Remembrance" for the mudslide victim. Brown ordered capitol flags to be flown at half-staff.