The Scoop on Snow Days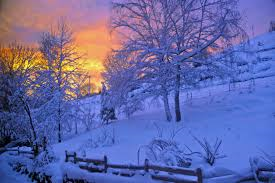 Hang on for a minute...we're trying to find some more stories you might like.
With the snow season upon us, everyone's favorite thing is in season: a snow day–a free day off of school or work for students and teachers. Everyone has their superstitious method of ensuring a snow day: flush ice down the toilet, wear pajamas inside out, or put a spoon in your pillow case.
But what goes on behind the scenes to make our snow day dreams come true?
Dr. Kelly says he begins looking at the forecast and weather reports  the night before because ideally the call could made early to give families time to plan. But he adds, "The problem is that weather conditions in Northeast Ohio can change drastically in minutes – making conditions unpredictable."  Therefore, on days when show or ice is forecast, Dr. Kelly's day begins at 3am, when he starts assessing the roads, snow, ice, and wind chill temperature. He gets in touch with road crews to find out more, and then he and Dr. Barnes start driving the roads at 4:30am.  He sometimes contacts other district superintendents to discuss, however, "Each district's superintendent makes his or her own decision." 
"It is not an exact science," Dr. Kelly explains. Much of it depends on the timing of the snowfall. His goal is to call off school by 5:45am to give families and buses time to prepare. 
Schools in Alaska on average require more snow for there to be a snow day because they are used to it and have the equipment to clear the streets and stay warm. The opposite is true in Florida; if they even a thin layer of snow the roads will be very slick; they do not have many snow plows and some may not have the clothes, scarves, and hats necessary to stay warm.  Some buildings and offices don't even have central heating. It also depends if you live in a more urban area where they have more resources to clear roads and less distance to travel to school. As TheAtlantic.com states, "Urban areas like Chicago and New York have more resources to clear snow and often need more to cause closings."
Here in Mayfield Village and Mayfield Heights, we have resources to clear roads–many plows and salt trucks. For the roads not to be clear, there would have to be a lot of snow falling constantly in the early morning hours, not allowing enough time to clear them before bus routes start. Another factor is temperature and windchill. For children who walk to school, the cold temperatures can be dangerous when exposed to them. Dr.Kelly says, "Safety is our number one concern…Our guideline [for cancelling] is zero degrees with a windchill in the negatives."
Regardless of whether you win big with a day off school, here are some tips to stay safe and warm in the winter cold: Always wear a hat and gloves to prevent frostbite and a cold. Turn your ceiling fan on the lowest setting; warm air rises so if you turn your fan on the lowest setting the fan won't cool you off as much as it will spread the flow of hot air. Switch between hot and cold water in the shower. According to mentalfloss.com, switching warm and cold water improves blood circulation between your skin and your organs; colder showers also correlated with a stronger immune system. Use these tips to ensure a happy healthy winter.
https://greatist.com/grow/tricks-to-stay-warm