Staff Cookie Contest Results
Hang on for a minute...we're trying to find some more stories you might like.
Photography by Meg Linsky
On Monday, December 18, twelve staff volunteers put their baking skills to the test, allowing their cookies to be judged by three dozen willing tasters–both students and adults. The tasters rated each cookie on a scale of 1 to 5 on appearance, taste, and texture then voted on their favorite and runner-up.
The winner was family and consumer science teacher, Mrs. Bakeman, with her cookie, Berry Shortbread Dream, a butter shortbread cookie with raspberry filling and an icing drizzle.  It was ranked in the top two by 37% of our tasters.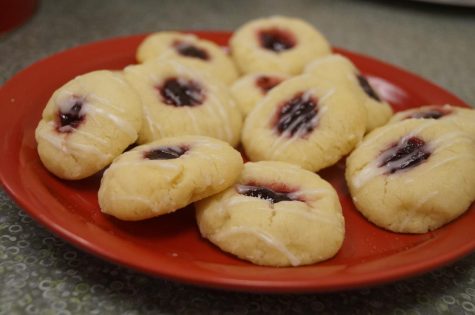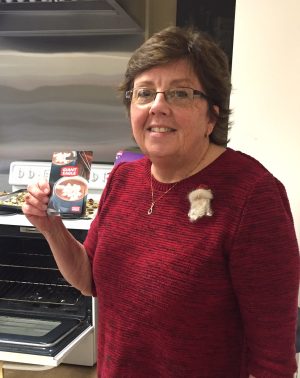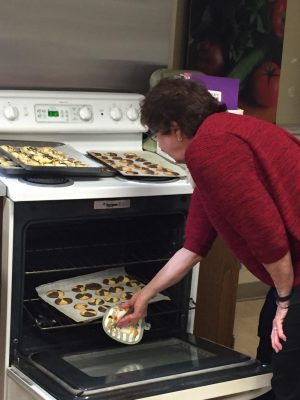 She edged out Mrs. Leonard's Cream Wafers, a buttery crisp sandwich cookie, which was chosen by 29% as one of their two favorites.
It was a very close match-up. While Mrs. Leonard's cookie was chosen by more people as their number one, Mrs. Bakeman's was the overall favorite.  To determine the winner, two points were assigned for each first-place vote and two points for each second-place vote.  This ended in a tie.  So, we went to the ratings to break it.
Appearance Points
Berry Shortbread Dream=102, Cream Wafers=99
Taste Points
Berry Shortbread Dream=104, Cream Wafers=97
Texture Points
Berry Shortbread Dream=98, Cream Wafers=96
Mrs. Bakeman wins a $50 Giant Eagle/GetGo gift card and bragging rights.  Mrs. D'Amico remarked about her cookie, "WOW! Love the buttery almond flavor."
The cream wafers earned high praise from many. Mrs. Willis said, "It was clear a great deal of time and care was put into preparing this cookie."  Mrs. Streitman said, "Wow! Much softer than expected. I love cookies that taste like butter, so this is right up my alley."  Mrs. Saunders described the cookie as "delicate and buttery with a creamy not-too-sweet filling." Voice staff writer Nakyla Kelly remarked, "It felt like the cookie was melting in my mouth." Abhi Siri also enjoyed texture, stating "I love the "buns" on the cookie! Most sandwich cookies put very little attention into the buns, but the buns here are buttery, puffy, and crisp!"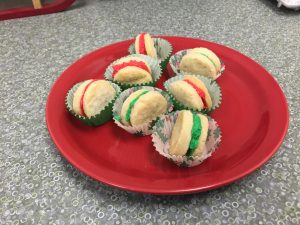 Coming in third place was Mrs. Bean's snickerdoodle.  This drop cookie with cinnamon and sugar was crisp on the outside edges and soft in the middle.  It earned the highest texture rating of all the cookies.  Mrs. Streitman said, "I am a self-proclaimed Snickerdoodle loather…. And I LOVE this cookie! Great texture, great flavor without any overwhelming cinnamon taste. I'd dig this cookie with some hot cocoa. Pleasantly surprised!"  Voice staffer Joi Scruggs said, "This is probably my favorite cookie.  I could taste the cinnamon. It was so soft in the middle. DELICIOUS!"  Avery Fish remarked, "so soft it melts in your mouth."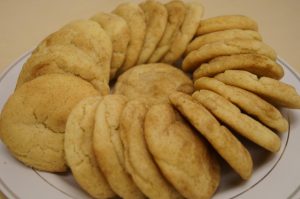 Fourth place was taken by Mrs. Golem with her Rice Krispies S'mores Pinwheels.  This variation of a traditional Rice Krispie Treat included dark chocolate, marshmallows, and crumbled graham crackers. Voice writer Vaishnavi Nayak said, "just looking at the treat made my mouth water."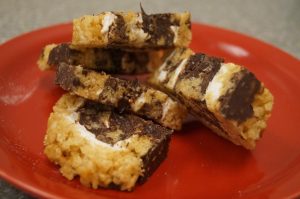 Here are the other staff submissions, in no particular order:
Mr. Paydo submitted a holiday classic: Peanut Butter Blossoms. This rich and flavorful peanutty cookie was adorned with a Hershey's Kiss.  Mrs. D'Amico said, "Always a family favorite! Can't go wrong with peanut butter!"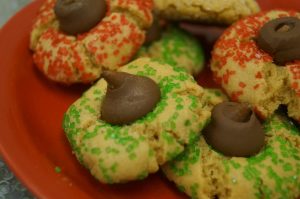 Mrs. McLaughlin submitted her father's family-favorite Chunky Chocolate Chip Cookie. This decadent chocolate chip cookie has what she called "the perfect dough: chocolate chip ratio."  Staffer Abhi Siri said, "Amazing. It's a truly a perfect ratio, and I really like the flavors!" Mr. Lubin called the cookie "pretty darn good."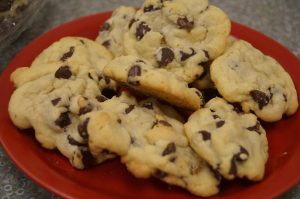 Mr. Stephens submitted Christmas Cowboy Cookies. This dense and crunchy cookie featured oats, chocolate chips, and M&Ms.  Mrs. Streitman said, "I love the chewy texture of this one! A fun twist on oatmeal cookies, for sure."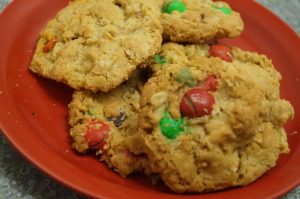 Mrs. Kerr submitted Starlight Mint Surprise Cookies. These were butter sugar cookies wrapped around chocolate mint wafers and topped with walnuts.  This cookie earned high scores for visual appeal. Voice writer Jenny Fu said, "The mint surprises you, which gives it a kick. It leaves the consumer wanting to get more of the taste, making it slightly addicting."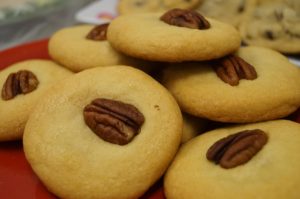 Dr. Bright went with Classic Chocolate Chip.  He claims it to be made with "all the right stuff." Mr. Mittinger agreed, rating this his favorite and stating, "Fantastic. With a glass of milk, best cookie in the world."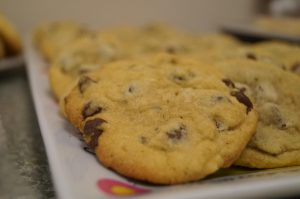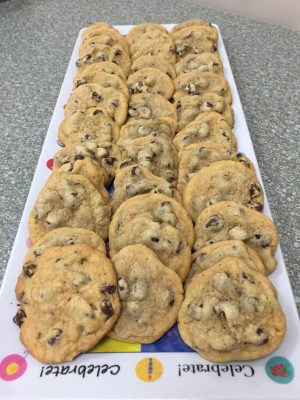 Mrs. Bright submitted Napolean Cremes.  This layered bar cookie actually tied the winner with 104 taste points. It earned rave reviews from lovers of coconut especially.  The cookie had velvety rich vanilla sandwiched between layers of chocolate and a coconut-y cookie crust.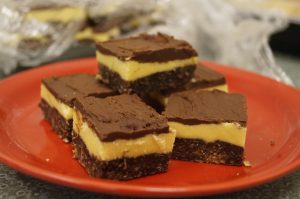 Mrs. Streitman submitted thumbprints–a cream cheese cookie base with apricot or strawberry preserves. Jenny Fu said, "The fruity taste adds a nice addition, along with the buttery cookie itself."  Mrs. Trentanelli called it an Italian Christmas favorite.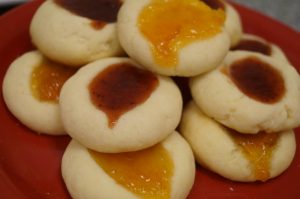 Mr. Face and his daughter made Snowballs together. A spin on the old classic chocolate chip cookie, this one celebrates the snowy season with white chocolate and a dusting of powdered sugar. Voice editor Dani Musi liked this one, saying, "The texture and chip to cookie ratio is the epitome of a perfect cookie."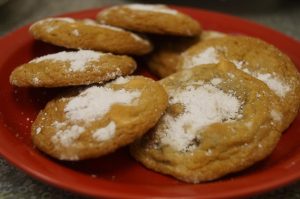 Lastly, Mrs. Pahor presented "Reindeer Poop"–a crunchy peanut butter and chocolate treat coated in powdered sugar. She presented her treats in a festive sled.  Staff writer Meg Linsky simply remarked, "Oooo, crunchy!" Tasters happily licked the powdered sugar from their fingers after enjoying this holiday treat.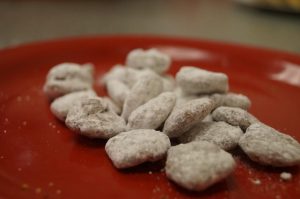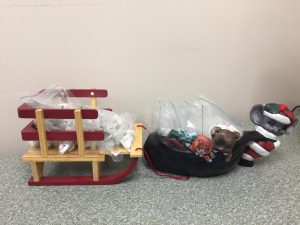 The Wildcat Voice Staff are grateful for all of the submissions and volunteer judges. Congratulations to Mrs. Bakeman on the victory!  Perhaps this will become an annual staff tradition, and she will have the opportunity to defend her championship in 2018!
Berry Shortbread Dream Cookies
1 c. butter, softened                                                                                      GLAZE
2/3 c. sugar                                                                                                         1 c. powdered sugar
½ t. almond extract                                                                                         ½ t. almond extract
2 c. all purpose flour                                                                                       2 – 3 t. water
1/3 to ½ c. seedless raspberry jam
DIRECTIONS
In a mixer bowl, cream butter and sugar until light and fluffy.
Beat in almond extract.
Gradually add in flour until dough forms a ball. Cover and refrigerate for at least 1 hour or until dough is easy to handle.
DAY 2 –Preheat oven to 350˚. (Or later in the day, depending on time)
Roll into 1" balls. Place 1" apart on ungreased cookie sheet. Using the end of a wooden spoon handle, make an indentation in the center. Fill with jam –NEATLY.
Bake at 350˚ for 14-18 minutes or until edges are lightly browned. Remove to wire racks to cool.
Spoon additional jam into cookies if desired.
Combine powdered sugar, extract and enough water to achieve drizzling consistency; drizzle over cookies.'
Yield about 3 ½ dozen cookies.