Texas church shooting leaves 26 dead
Hang on for a minute...we're trying to find some more stories you might like.
On Sunday, November 5, a mass shooting occurred at a Baptist church in Sutherland Springs, Texas near San Antonio. Twenty-five people were killed in the in massacre with an estimated one dozen of them being children under the age of 18 and one being a pregnant woman. 20 others were injured. Victims ranged from ages seven months to seventy-seven years old.
The suspect for the crime, the now deceased gunman, is identified as 26-year-old Devin P. Kelley. According to BBC News and witnesses, Kelley stopped at a gas station across from the church then exited his parked car and opened fire outside of the church at around 11:30 local time.  The attacker then continued to fire shots inside of the church.
The attacker came to the church wearing black tactical gear and a ballistics vest strapped to his chest, and carrying an assault rifle–specifically an AR-556 model.
The assailant was dead by the time police and other authorities got to him. He was found inside his vehicle on the highway with a self-inflicted gunshot wound. The vehicle contained several weapons.
This event is the largest mass shooting in Texan history to this day.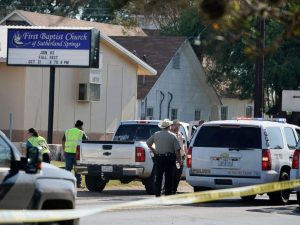 Authorities do not yet know the specific motive behind the attack, though Kelley's former mother-in-law attended the church and been threatened by him.  They had conflicted before in the past, and he was upset with her.
His friends and relatives did not know of him wanting to carry out the attack. Dave Ivey, Kelley's uncle, said in a Facebook message that he "never in a million years would've believed Devin could be capable of this kind of thing."
Kelley was recently discharged from the military corps in 2010 for violent behavior and assaulting his wife and child, according to service records obtained by the Associated Press. He was reported to be demoted and received a bad conduct discharge following the court-martial, and he served a one-year detention sentence as a result.
According to the Washington Post, Kelley escaped from a mental health facility that year after he was caught sneaking guns onto an Air-Force base, claiming intent to carry out death threats against military superiors, according to a police report. Officers who worked during his time at the Air Force with Kelley described he"was a danger to himself and others."
According to Kelley's first ex wife, Tessa Brennaman, aged twenty-five, he threatened to kill her during their relationship and held her at gunpoint, asking if she wanted to die. She described him as a menacing and abusive man. "He just had a lot of demons or hatred inside of him," she explained to CBS news and "Inside Edition."  Kelley also confessed to fracturing the skull of Brennaman's young son, and was convicted of abusing his wife and stepson the same year.
The families of the victims are now mourning their loved ones. The church held a public funeral twelve miles from the church in a civic center in Floresville. Twenty-six chairs were placed there that day, one for every victim who lost their lives in the shooting. According the New York Times, families, friends and acquaintances of the victims came to mourn their loved ones. About 3,000 people showed up at the funeral; the mourners were encouraged to move past the massacre and not dwell on their anger.
President Donald Trump spoke out about the shooting, calling it  a "mental health problem, not an issue with gun laws in the United States" in speech he made while attending a press conference in Japan. He described it as a "very, very sad event, but that's the way I view it." Also adding, "Mental health is your problem here," noting that "based on preliminary reports" the shooter was "a very deranged individual". The question came to him when he was asked about whether he believed gun control was the cause of the problem.