Catalonia Votes on Independence from Spain
Hang on for a minute...we're trying to find some more stories you might like.
The past few weeks have been tumultuous for Spain, particularly the wealthy region of Catalonia. Citizens of Catalonia have been rallying for independence from Spain for more than three years. Just this October, however, Catalonia succeeded, only to lose it all after the Spanish government unseated the near-autonomous region's president, many provincial ministers, and other government officials.
This isn't the first time Catalonia declared independence. Catalonians seem to never have forgotten the 1970s dictator Francisco Franco and his repression of Catalan culture, and they have been actively seeking independence since 2014.
On June 9th, the Catalan government announced an independence vote would take place on October 1st, 2017. This vote, deemed illegal by the Spanish Constitutional Court in September, resulted in the seizure of all referendum related items, including ballot boxes, websites, and promotional material. National Police in riot gear tried to shut down polling stations, and 750 were injured in the process according to The New York Times.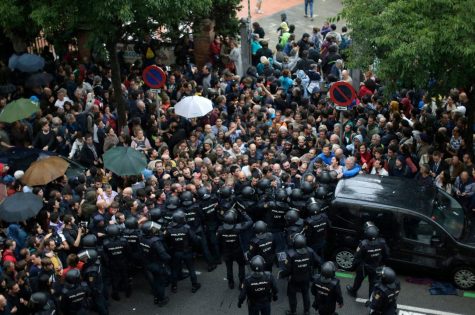 But the vote did take place, and 92% of voters voted in favor of independence.  Though many Catalonians did not or could not vote at all.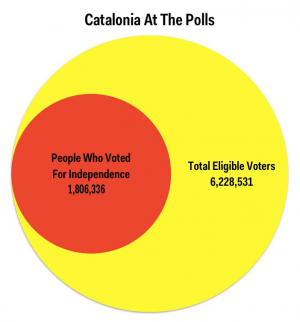 Following this date, there was a period in which the Catalan region did not declare independence, which prompted Spanish Prime Minister Mariano Rajoy to ask the region to clarify their independence. As of now, the line between "Independent" and "State" remain blurred, as Catalonia officially declared independence, but Spain was able to remove many members of the Catalan government.
Spain has made promises to take Catalonia back, and whether that be by force or by legislative action remains unclear to this date. Meanwhile, the ousted Catalan president, Charles Puigdemont, has re-appeared in Belgium but claimed to not be applying for asylum. Before the press conference, it was known that the ex-president was in Belgium, and some news outlets claimed he was meeting with his lawyer. Either way, he will not be returning the Spain, as the Spanish government would most likely arrest him for an illegal referendum the moment he set foot in Spain.
If Charles were arrested, he would not be the first person to be arrested in the Catalan independence referendum. Previously this year, two politicians were tried and arrested in the Spanish court, and two policemen were also arrested for their failure to obey orders directly from the Spanish government.
The independence movement has left the Catalan police force close to divided. While the police force was instructed to close ballot boxes and shut down the illegal independence referendum, these orders were done but reluctantly. Many members of the police force support the independence but still must report to Spain,and not the Catalan government.
As of November 5th, the ex-president of Catalonia, Charles Puigdemont, turned himself into the Belgian police after the Spanish Government wanted him arrested.
There are only two possible outcomes to this situation: Spain hangs on to Catalonia, or Catalonia becomes its own country.