Indonesian Firework Factory Explosion Leaves 47 Dead and 46 with Severe Burns
Hang on for a minute...we're trying to find some more stories you might like.
On Thursday, October 26, 2017, at around 9:37AM eastern pacific time, a firework factory near the Indonesian capital of Jakarta exploded with a sound that set off car alarms and was soon followed by a second smaller explosion that sparked a flame that engulfed the factory in minutes.
Indonesian factory fires like this are actually quite common, and this is not the first time a firework factory has exploded and then caught fire. This is a result of poor fire-safety regulations and a lack of consistency in safety laws.
The factory had just opened less than two months ago. 103 employees were working at the time of the incident. 47 were killed, and 46 suffered severe burns. The building is almost completely destroyed with a collapsed roof and ash covering everything.
When the catastrophe took place, there were workers that had been trapped inside the burning building crying for help and locals and police officers successfully worked to collapse a wall, freeing some of the trapped workers. The fire that  engulfed the factory after the explosions supposedly started at the door, and some reports say there was an electrical shortage that lead to a spark starting the fire. At the moment there hasn't been a proven cause to the explosions and fire, but firefighters are hard at work to find the cause to the accident.
An accident like this is not uncommon. In the last year and a half there have been many other factory explosions; in Tultepec, Mexico, just north of Mexico City, there was a series of explosions in which 35 died and dozens were injured. Only 10 out of the 300 stalls in the factory were left standing after the disaster. There is still no cause that has been proven for the explosion.
Across the globe, in Kaifeng City, Henan province China, there was another firework factory explosion that took place on January 14, 2016–just days before the Chinese New Year. The series of explosions left 10 dead and 7 injured along with mass destruction. Nearby cars were destroyed, and windows of the houses in the area were shattered by the force of the explosion. Like the Indonesian firework explosion and the Mexico firework factory explosion, there is no cause to the horrific accident.
Perhaps the lost lives from these incidents will illuminate the need for better safety laws and spark discoveries on safer ways to make fireworks in order to make factory accidents less common.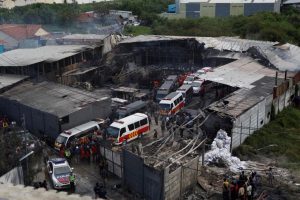 Above is what's left of the Firework factory in Indonesia; as you can see the entire roof has collapsed.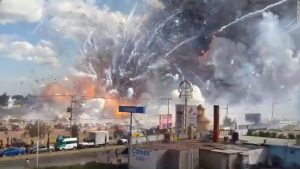 Above is one of the series of explosions in Mexico.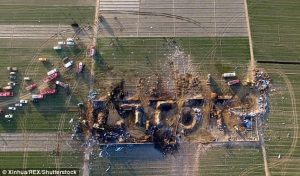 Above is what is left of the Chinese factory after the explosion.