Stephens Celebrates 20th Year of Coaching with Second Consecutive Undefeated Season
Hang on for a minute...we're trying to find some more stories you might like.
The Mayfield Middle School eighth-grade football team ended their 2017 season undefeated, an accomplishment they also achieved in 2016 as seventh graders under coach Bob Race–making them the only team in Mayfield history to go undefeated in consecutive seasons. Their record tied them with Chardon for the district title. For Coach Stephens, who also led last year's 2016 eighth-grade team to an undefeated record, these back-to-back seasons are the cherries on top of a coaching career that spans 20 years.
"
"In twenty years of coaching, no matter the record, the thing I remember most is relationships.""
— Coach Stephens
The team closed their season with a final record of 7 wins, 0 losses, and 1 tie. The team played eight total games, two of which were shutouts (meaning the opposing teams didn't score at all during the game.) In four out of the eight games, Mayfield's final score was more than 30 points greater than the opposing team's; Mayfield was able to defeat most of the conference teams fairly easily. But the Chardon Middle School team challenged Mayfield during the last game of their season. After four quarters, Chardon and Mayfield's hard-battled game ended in a tie: 16 to 16.
For defensive lineman Dylan Gamber, the tie was an admittedly frustrating end to an otherwise dominant season.  He said he couldn't help "going home and thinking about what I and my other teammates could have done better."  As seventh graders, the Mayfield team defeated Chardon 30-0, but with new players for 2017, the Chardon team came into the final game also defending an undefeated season.
Through the entire season, the team posted impressive statistics.  The offense scored 286 points and moved the ball more than 2,400 yards, racking up 38 touchdowns scored by 18 different players.
In the Mayfield passing game, quarterback Devin Sperling threw 12 touchdown passes. Receiver Nathan Moon had the most catches with 16, 4 of which were touchdowns. Grant Woods, the leading receiver for the most yardage, ran 272 yards with 12 catches, 4 touchdowns, and an average 22.7 yards per catch. The longest receiving play was made by Drew Pattie for 58 yards.
In the rushing game, running back Fennel Henderson ran a total of 601 yards. With 11 touchdowns, he was the team's top scorer with 66 total points. He also broke the school record for longest touchdown run with a 93-yard score. Henderson and Dom Tudini had the highest average yards per carry at 12.8.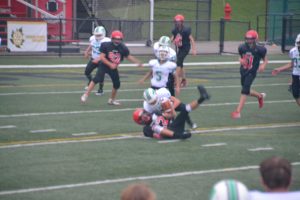 Defensively, Mayfield allowed only 60 total points scored in all eight games. The defense had 392.5 tackles for the season with the leading tackler being Dom Tudini with 49 followed by Colt Brandenburg with 43.
Dylan Gamber led in sacks with 4, tackles for a loss with 12, and forced fumbles with 3.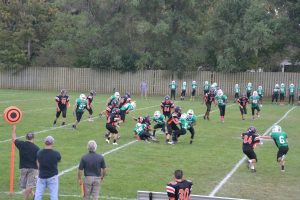 The defense also kept opposing teams in check with passing. Angelo Vecchio had 6 deflections along with 3 interceptions as well a punt return for a touchdown. Grant Woods said, "Angelo Vecchio was always there to tackle or do whatever you need."
Daniel Blum and Anthony Criniti also had defensive touchdowns, Anthony recovering a fumble for a touchdown and Daniel with a pick six.
The team also ended the year with a +14 turnover margin and held their opponents to just over 900 yards. Overall the eighth-grade defense was a dominant and important part of the winning season.
End-of-the-year awards were given to some of these players for noteworthy performance through the season. Devin Sperling and Fennell Henderson were voted on by their teammates as Offensive MVP's. Grant Woods received the Green and White Award for leadership. Teammate Fennell Henderson said, "When we weren't playing well, Grant helped us get better. He would hype us up."  Carlo Santoro was awarded as the team's hardest worker.  The Defensive MVP award went to Dom Tudini, and Lineman of the Year went to Dylan Gamber. The most improved awards went Drew Pattie and Giovanni Ditomoso.
Behind these winning players is the coaching staff of Brian Stephens, Jon Capadona, and Preston Parker. 
Mr. Stephens. Known as "Coach Stephens" to some or just plain "Coach" to others, he is the leadership behind two undefeated seasons. For Mr. Stephens, this year marked his 20th year coaching and his fifth undefeated season. His history with the sport, however, goes way back, to when he was five. He said he was introduced to the sport through his four brothers and quickly fell in love with the it. He saw the competitive spirit of football as an outlet and enjoyed the brotherhood he formed with his teammates.  He wanted to make those bonds a part of his coaching style as well. "Play together; play for each other," is his message to players.  He added that his favorite part of teaching and coaching is building relationships. "In twenty years of coaching, no matter the record, the thing I remember most is relationships."
Coach Stephens isn't only focused on building relationships and winning. Safety is something else he keeps on his mind. He says that he does what he can to minimize risks in this collision sport.  Instead of practicing the collision aspects of the game, they use simulations that emphasize proper form without putting the players' bodies at risk.  Overall, Coach Stephens emphasizes creating the foundational skills for being a good football player.
The team's winning record suggests that these foundational skills are sound, but it is evident that to most of Mayfield's players, Coach Stephens has also impressed upon them that there is a lot more to football than just the basics–the tackles and the plays.
Devin Sperling said, "We're all playing with our friends." And for Dylan Gamber, football eased his move to a new school. He said, "In the beginning I was new with no friends, and at the end I came out with 37 new brothers."  
Fennell Henderson, Grant Woods, Devin Sperling, Dom Tudini, and Dylan Gamber all agreed that while at practice or games, they are with their friends and they have never been sad that they missed something because of football practice. They all also agreed as a student athlete you have to prove that football isn't getting in the way of your academics.
For some, playing football is a part of family traditions. "It has always been a family sport," said Grant Woods. Fennell Henderson echoed that idea, saying "it runs in my family."
For Devin Sperling, he "fell in love with the game from a young age."  Dom Tudini has been playing since he was five years old and said he always has fun on the field.
The players agreed a winning season adds to the fun: "When your name is called on the announcement it makes you feel good and it gives you self-confidence when people in the hall recognize you for being on the team," said Woods.
When asked what got them to an undefeated season, the players expressed that a football player should possess several characteristics. They all agreed that it takes hard work and determination. "Push yourself everyday," said Fennell Henderson. For the MMS team, that meant long summer practices, tackling drills, and running.  Viewing game tape is also an important part of their preparation.  "It helps you identify your weaknesses as an athlete," said Gamber. All players emphasized the importance of practice.  "Practice like you will play," they agreed.
The players reiterated that much of the sport is mental. "Everybody has a job," said Henderson. "You gotta know your plays, know audibles…the freeze counts. If you don't know your job, it will cost you your spot." He added, "It's important to be able to think under pressure."
Grant Woods asserted that mindset is important.  "We would act like we won the game before it even started."  He added that the team was energetic and could outrun any team.  "Hustle hit, never quit," he quipped.
Gamber noted that the mentality behind many of the team's big-scoring games came back to the idea that "no matter what the score, make a stop or make a play." He said that they never let themselves get comfortable: "Every game, you're always nervous. There's always anxiety and adrenaline."
The players also listed leadership, physical strength, and good communication as important qualities for success in the sport.  "You're going to make mistakes–it's about how you come back from those mistakes," said Gamber.  
But it seems the eighth-grade team seemed to keep those mistakes to a minimum.  A Western Reserve Conference title and two consecutive undefeated season earn the players and Coach Stephens a place in Mayfield history.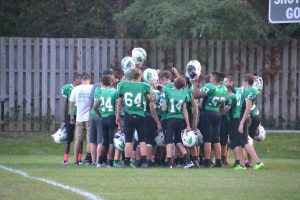 2017 Roster
| | |
| --- | --- |
| Vincent | Abounader |
| Zachary | Beukemann |
| Daniel | Blum |
| Colton | Brandenburg |
| Christian | Brooks |
| Mekhi | Cabbell |
| E.J. | Chamoun |
| Lucas | Cohen |
| Anthony | Criniti |
| Steven | Daugherty |
| Joseph | Dilella |
| Giovanni | DiTomaso |
| Ethan | Elliott |
| Anthony | Ferrante |
| Dylan | Gamber |
| Cody | Gedeon |
| Fennell | Henderson |
| Joseph | Larkins |
| Tylor | McDonald |
| Anthony | Migliorini |
| Nathan | Moon |
| Jayson | Morris |
| Tyler | Nungesser |
| Andrew | Pattie |
| Dale | Perazzola |
| Dominic | Reboira |
| Kalob | Ross |
| Lucas | Sadler |
| Carlo | Santoro |
| Luke | Schofield |
| Luca | Sgro |
| Matthew | Snider |
| Devin | Sperling |
| Dominic | Tudini |
| Angelo | Vecchio |
| Grant | Woods |

Note:  
Special thanks to Coach Stephens, Dylan Gamber, Fennell Henderson, Devin Sperling, Dom Tudini, and Grant Woods for attending a press conference with the Wildcat Voice staff.
This article reflects a collaborative effort on the part of the staff.Introduction and Season Overview: Danielle Musi and Gigi Shirazi
Offensive Overview: Leo Weissman
Defensive Overview: Jimmy Turcoliveri
Player Spotlight: Joi Scruggs
Coach Spotlight: Abhi Siri and Vaishnavi Nayak
Effort and Preparation: James Calipetro
Impact of Football: Avery Fish and Meg Linsky
Qualities of a Football Player: Jenny Fu and Nakyla Kelly