Eat Up! Giant python eaten after villagers killed it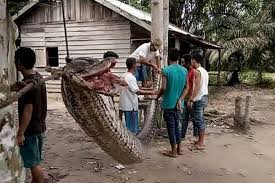 Hang on for a minute...we're trying to find some more stories you might like.
On October 5, a giant python, approximately 26 feet (7.8 meters) in length, met an unfortunate end when it was eaten after it lost a battle with a local man in Indonesia. It was first discovered in the night by 37 year old security guard Robert Nababan in the Batang Gansal district  on a palm oil plantation.
It was on the perimeter of the road, slithering slowly trying to get to the other side and blocking traffic for passersby. Nababan and two others tried to move the snake off the road and tried to catch it by putting it in a cloth sack. But Nababan ended up getting bitten and sent to the hospital. The snake sunk its fangs into his arm and tried to coil itself around the man.
While in the hospital, Nababan told Indonesian reporters, "I tried to catch it. It bit my arm, and we wrestled for a while." He survived the accident and nearly lost his arm to the snake.
His family members have spoken about the incident. One sibling said, "My brother is still weak condition." The doctors at the hospitals say that the arm is badly injured and that doctors "might have to cut it off."
During that scene, local villagers and another security guard  came quickly to his aid and rushed him to the hospital in a nearby town. One of them hit the snake with a log, which ultimately killed the reptile.
The python was not as lucky as Nababan; it lost, and was strung up on display in the village. Little children played on it, and many posed for photos with the creature before it was chopped up into pieces and later fried for the villagers to eat.
Elinaryon, head of the Batang Gansal district government, told BBC that pythons were common in this area, (a remote area of Sumatra) and, that "there are usually around 10 sightings of them a year.  In the dry season they come out looking for a drink, and in the wet season they come out to take a bath in the rain." He added that there are usually a lot of mice in the palm oil plantations, and that's what the pythons are hunting.
Elinaryon said it was not wise for people to tackle the giant reptiles. "You really shouldn't try to do that… of course the snake, if you try and kill it, is going to get really angry and that's when it fights back!"
He added that he wasn't really surprised that the snake was eaten. "The blood, some people believe, has healing qualities and can be used in medicine."