Saying Goodbye to MMS' Eighth Graders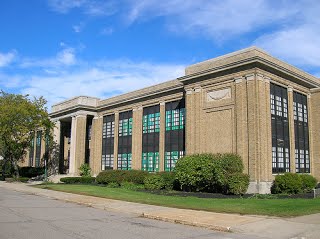 Hang on for a minute...we're trying to find some more stories you might like.
With the school year drawing to an end, plenty is planned for students. But, for the eighth graders of MMS, the end of the 2016-2017 school year signifies a big change: leaving the middle school for the high school.
With this comes class preparations, field trips, and goodbyes. Classes have already been chosen by students via Infinite Campus, where they select electives that they are likely to continue to take in following years. Options for freshmen are more limited than for juniors, sophomores and seniors. Some elective courses are required to be in a certain category, such as Fine Arts. These courses count for credits, which the student has to accumulate enough of during their high school years to graduate.
Plus, the classes have field trips planned, one for the whole grade together, and one for separate teams. On May 17th-19th, the majority of eighth graders will be traveling to New York City. Students can choose not to go, which means that they will either stay home those three days or come to school for non-academic activities and small field trips, such as seeing a movie. Seventh graders get the opportunity to take a trip to Chicago, but sixth grade does not get a big trip. The New York trip is fairly new, as this is the second year of it and before eighth graders went to Washington, D.C.
There is also the stress involved with finals, which not all students take. Finals, exams that cover the whole year of learning or the second semester (depending on the teacher's choice), are meant for high school. Because high school classes are offered here- languages and math (more specifically, French/Italian/Spanish 1 and Math 1)- students are required to take midterms and finals and finals are scheduled around this time. Next year, finals will be in all classes. Because these classes are high school level, they count for credits for graduation (music classes, such as Vocals, do as well). In order to get into these classes, students must have been taking Advanced Math beforehand to get into Math 1 or take extra coursework to cover any topics they've missed, and to get into languages, they must have scored high enough on state testing (for this year, the PARCC, for next year's eighth graders, the AIR). Most students choose to continue these classes into freshman year and beyond.
On the last day, the clapout and awards will be carried out. Along with other last day festivities, awards are handed out in a variety of categories and reasons, commemorating students on their effort and achievements. Revolution Team is even doing superlative awards, which allow a boy and a girl to win in "best", "most", and "most likely to" categories, such as "most likely to be valedictorian", and "most athletic". Team members initially nominate a boy and girl for each category, then final voting is carried out. There are two of each gender to vote for in each category, and then the winners are announced on the last day of school (May 25th). Then, there is the tradition of a clapout. Exclusively for eighth grade, the students are essentially "clapped out" of the middle school, where they walk throughout the halls and the sixth and seventh grade claps for them. Students like to dress up for the occasion.
The M Factor (spin-off of the X Factor), a mostly music oriented talent show, announces its winners on the last day of school. The whole school gathers in the gym, and the finalists perform (often times, they sing) for the audience, who clap along or wave their phones with the flashlights on, before the winner is announced to everyone and they are given a trophy.
Five eighth graders were interviewed about their opinions on the ending school year. Their outlook on school tended to be negative, but all seemed to be excited for the New York field trip. When asked about how they felt about the school year ending, all were happy. Rachel Watkins said, "Happy, I guess. I don't like this school, so I'm happy I don't have to come back." Chantel Estep said, "I'm happy. I also feel like it's taking a really long time, I want it to end so bad and it feels like the days are going by so slow." Sophia Rogers shared, "I'm thrilled. I hate this school, I want to leave. The only teacher I'll miss is Mrs. Trent." Carly Simpson agreed, "I'm very happy, but a little bit stressed because there's a million tests I have to do at the end of the year. And it feels like freedom is so close but so far away." TJ Ference simply said, "Happy, sure. I'm just going to spend time in my house."
Then, they were asked if they were excited for high school. Rachel said, "No, because homework actually counts. High school has more homework." Chantel elaborated, "No, I'm not excited because I heard you have more work and also you have to start thinking about your future and your grades count and you actually have to study for a bunch of tests and you have finals at the end of the year, you can't end happily. You have tests before break. I'm not here for that." However, other people's opinions were mixed. Sophia Rogers said, "Yes, because I actually have friends there and I'm excited to see them, but no, because I hate school and I'm already stressed and the year hasn't started." Carly said, "Yes and no. I'm excited because I hear that high school gives you more freedom and it's some of the best years of your life. And I'm not excited because some of the grades actually count and it determines stuff with college so you actually have to do good." TJ stated, "Yes and no at the same time. No because it means more school and more learning. And yes because new friends and new food."
Afterwards, the students were asked what they would miss here. The answers varied. Rachel responded that she would miss some of the teachers, and Chantel said, "Nothing, except that team time thing we have. We don't have that in high school, we just have work." Sophia said, "Definitely not the lunches. I'll miss Mrs. Trent a lot." Carly agreed, "I'll miss Mrs. Trent and I'll miss the grades not counting for much." TJ admitted, "I will miss nothing because this school absolutely sucks. Except for that mysterious basement door."
When asked what the biggest change from middle school to high school would be, Rachel, Chantel and Sophia agreed that it would be big and difficult to navigate. Carly spoke about grades, "In high school, it determines things with what college you're going to and if you get into college and the grades actually count and it's going to be a lot harder", and TJ said it would take him longer to bike there.
Lastly, the five were asked if they were excited for the end-of-the-year field trips. Chantel said, "Yeah, I'm excited because we're obviously out of class, and who would be excited to be in class?", and Rachel agreed. Sophia said, "No, I just want to go home. Besides New York." and Carly replied similarly, "Only New York. The other ones are just more time that I'm not free." TJ explained, "Yeah, since I'm on Hele and we're going to the Guardians of the Galaxy movie and we're going to Squire's Castle. But I'm mostly excited for New York. It means pizza stores every corner."
Lastly, Carly and Sophia had an ending comment to share: "People's roasts here are really bad. When someone tries to roast someone else, it's really embarrassing."
In the end, though, through the good and bad times, this year's eighth graders will leave with all the memories they've made here at Mayfield Middle School.