Hair Care? Look to Madame CJ Walker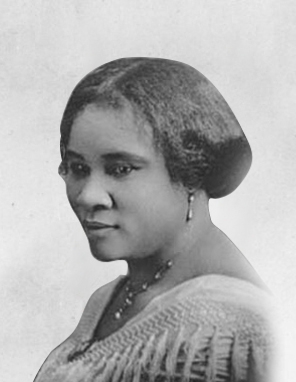 Have you ever wondered how your hair care was invented? It all started when Madame C.J. Walker became the first female self made millionaire to make hair care products for the African American community . She made many products like shampoo, the hot comp and the curling iron.
Madame CJ Walker, aka Sarah Breedlove, was born on December 23, 1867 in Delta, Louisiana to Minerva and Owen Breedlove. Sarah had 5 siblings that were born into slavery but she, the youngest of six, was born free after the Emancipation Proclamation. Her parents later died, leaving her an orphan at the age of 7. Sarah, then, moved to Vicksburg, Mississippi and worked as a house maid. She lived with her sister, Louvenia, and her brother in law, Jesse Powell.
After a series of failed marriages, Walker then settled in Saint Louis, Missouri with her daughter A'lelia McWilliams. Her career started when she noticed the quality of African American hair in her community. She found that the hair was infested with dandruff and that people were balding quickly. She wanted to make a change, so she became a hair care seller for Annie Malone and acquired knowledge about the hair care world.
Walker later opened her own hair salon in Pittsburgh, Pennsylvania, which made her well known. She, then, started a hair school  called the Madame C.J. Walker Manufacturing Company. She created many products like pomade, shampoo, conditioner, and hair growth lotion. She also invented the first hair comb, which led other people to make other hair products like the hair iron. She has made many millions from her discoveries as a black woman. She finally died in 1919 at the age of 51, leaving behind her daughter A'lelia and a legacy of being the first black woman to be a millionaire.
The legacy of Madame C.J.Walker is extraordinary because it says how no matter where you came from, you still are able to have a good future. She was born into poverty and died with riches that would be equivalent to 1 billion dollars in today's money. Throughout her business career, she created many hair inventions that have inspired other innovations in the hair care world. So when you can't tame your hair, and your first thought is pomade, think of Madame C.J. Walker.